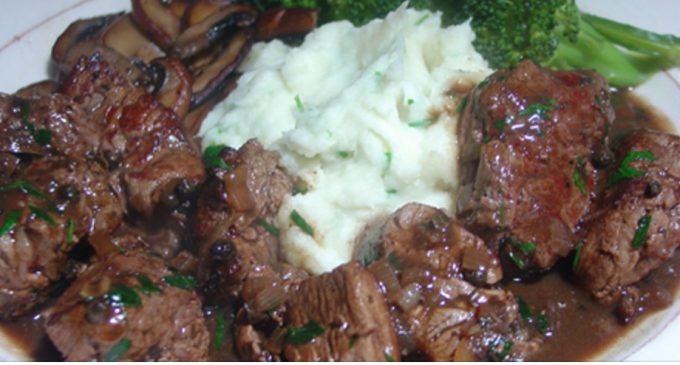 Not just on Valentines Day but every day of the year is a good day for a hearty steak dinner. These Tender, Juicy Sirloin Steak
These tender, juicy sirloin steak tips are slow cooked with a rich & savory gravy then served on top of creamy, garlic mashed potatoes. This recipe is super easy for me to throw everything in a crock pot and let everything simmer.
The result is a delicious Gravy that is absolutely to die for! The Gravy not only is slow cooked with the Sirloin Steak Tips but it can also be used as the sauce for those delicious Garlic Mashed Potatoes.
This Amazing Take On Sirloin Steak Tips, Gravy & Garlic Mashed Potatoes Will Have You Hooked With The First Bite!
This dish is really a two-in-one recipe because it gives you the Gravy and the Sirloin Steak Tips together… all you need to do is make the Garlic Mashed Potatoes and you have a complete dinner. It's hard to choose what you like better… would it be the Garlic Mashers or the Sirloin?
For The Full List Of Ingredients & The Step By Step Directions To Follow Please Head On Over To The Next Page Where We Show You How To Make The Entire Recipe…