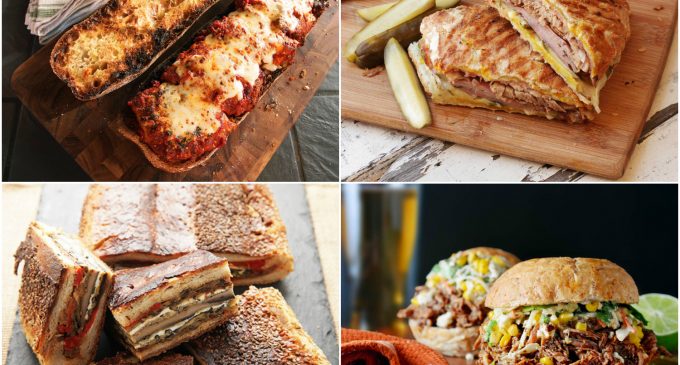 Many people have been enjoying sandwiches for as long as we can remember. Maybe it is because they can be made quickly or maybe it is because it is because they are made with great ingredients. Whatever the reason, we just love them. These sandwich recipes will not disappoint. You might even be surprised by how many different varieties there are!
Some Truly Wonderful Sandwiches To Try For Your Next Party Are:
BURGERS
ULTRA-SMASHED CHEESEBURGERS

This burger, with its two crispy, well-browned patties sandwiching gooey American cheese, is better than anything you'll find at most bars.

Our smashed burger technique can be served with more than just American cheese. Here we use it to make a Reuben-inspired hybrid burger. That means beef sprinkled with coriander seeds for a little corned beef flavor, sauerkraut cooked onto the patties like onions on a slider, and of course the classic rye bread, Swiss cheese, and Russian dressing.

CEMITA BURGER WITH REFRIED BEANS, CHIPOTLE MAYO, AVOCADO, AND OAXACAN CHEESE

We serve it like a classic Mexican cemita, with queso Oaxaca, avocado, lettuce, and refried beans piled onto a cemita bun. To nail the flavor of a real cemita try to find papalo—cilantro is a fine substitute, but it won't be the same.

MINI PINEAPPLE-TERIYAKI-GLAZED SALMON BURGERS WITH AVOCADO

Try these mini teriyaki burgers made with salmon. We top the burgers with sweet caramelized pineapple and lightly mashed avocado, plus peppery watercress for balance.

SHOOTER'S SANDWICHES
ITALIAN SAUSAGE AND FONTINA SHOOTER'S-STYLE SANDWICH WITH SUN-DRIED TOMATO-CAPER RELISH

Try this improved shooter sandwich made with sausage, Fontina cheese, and vegetables sautéed in the rendered sausage fat.

ROAST DUCK SHOOTER'S-STYLE SANDWICH WITH PICKLED CARROTS, DAIKON, CUCUMBER, AND HOISIN SAUCE

This version takes its cues from a Chinese scallion pancake. We fill the bread with Peking duck, sweet hoisin sauce, fresh cucumbers, and pickled carrots and daikon.

ROASTED VEGETABLE AND GOAT CHEESE SHOOTER'S-STYLE SANDWICH

Consider making this meatless shooter's sandwich. It's not short on flavor thanks to roasted portobello mushrooms, eggplant, zucchini, red peppers, caramelized onions, and goat cheese.

PORK CARNITAS AND OAXACA CHEESE SHOOTER'S-STYLE SANDWICH WITH SPICY REFRIED BEANS AND PICKLED RED ONIONS

This sandwich is packed with homemade carnitas, refried beans, queso Oaxaca, pickled red onions, and jalapeños. Unlike most shooter's sandwiches, we recommend reheating this one before serving to melt the cheese.

MUFFULETTA SHOOTER'S-STYLE SANDWICHES

We go traditional with the ingredients: mortadella, soppressata, capicola, provolone, and olive salad. Arranging the cold cuts in at least three thin layers and spreading olive salad on the top and bottom leads to the best flavor distribution.

MORE
CLASSIC NEW ORLEANS MUFFULETTA SANDWICH

The most important part of a muffuletta is the olive salad—we make our own with mixed olives, giardiniera, roasted red peppers, parsley, and capers.

This recipe takes some forethought, but if you're willing to roast a pork shoulder on Saturday then you can make incredible Cuban sandwiches for the game. Once the pork is cooked all you need to do is sandwich it between slices of Cuban bread with Swiss cheese, honey ham, dill pickles, and yellow mustard and cook it all in a panini press.

CLASSIC REUBEN SANDWICH (CORNED BEEF ON RYE WITH SAUERKRAUT AND SWISS)

If you toast the bread in the oven, top it with preheated beef and sauerkraut, and put it back into oven to melt the cheese, you can make awesome Reubens much faster.

PARTY-SIZED CHICKEN PARMESAN SANDWICHES

We go all out and put an entire batch onto a large, crusty ciabatta loaf with homemade red sauce and plenty of Parmesan.

ITALIAN-AMERICAN MEATBALL SANDWICHES

The most important ingredient is a batch of our juicy meatballs. We make the sandwiches with soft Italian-style bread, grated Parmesan, and mozzarella. Go with sliced mozz instead of grated to get a more thorough coating of cheese.
Enjoy!
All of these sandwiches taste so incredible that you may want to make them as often as you can! Have you tried any of these sandwiches yet?
Let Us Know What You Thought!
For even more amazing sandwiches, you can visit: