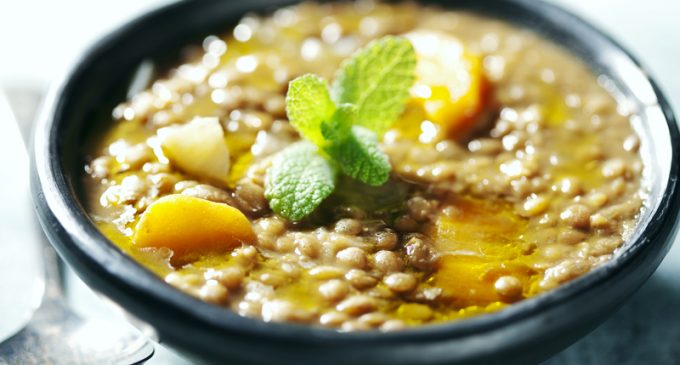 We Recommend Making Extra, Because This Tasty Stew Always Goes Fast!
If there's one thing we're always on the lookout for, it's a quick and easy dish that can satiate even the biggest appetite, without straining our wallet or taking hours in the kitchen to prepare. We found just the thing with this butternut, sweet potato and red lentil stew that takes 20 minutes of prep time and 30 minutes of cooking time, and yields an incredible 11 cups of soothing, yummy stew. This may just be our new favorite comfort food!
This stew is loaded with goodies, including tomatoes, garlic, cumin, turmeric, chili powder and tons of other seasonings. This stew is perfect for cozying up with on a cold winter's day, but we like it all year round! One thing we really like about this stew is that it's so easy to customize. While it calls for red lentils, you can substitute chickpeas instead. And, you can substitute baby spinach or kale for the chard. This is great, because sometimes you run out of something and have to make do with what's on hand, and this soup is just perfect for that!
To learn how to make this delicious butternut, sweet potato and red lentil stew at home, please continue to Page (2) for the full list of ingredients and complete cooking instructions.