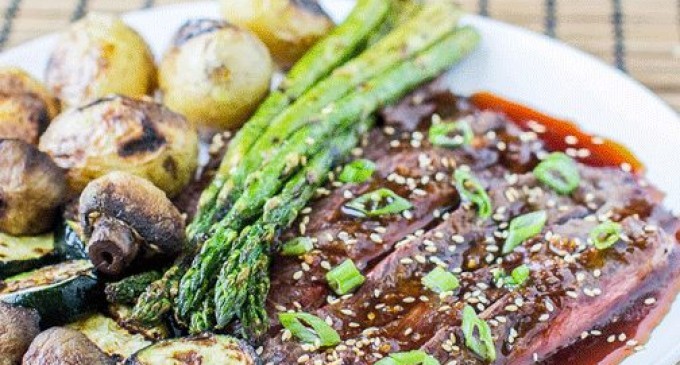 The instructions for this dish can be a little intimidating but after this is done it is going to blow your mind! This steak is absolutely delicious and marinated with all of the right flavors.
You are going to fall in love with how tasty it is!
To Get Started You Are Going To Need…
FOR THE TERIYAKI GLAZE:
½ cup soy sauce
½ cup sugar
¼ cup water
2 T. mirin
2 teaspoons grated fresh ginger (from one 6-inch piece, peeled)
1 clove garlic, minced
1/8 tsp. red pepper flakes
2 tsp. corn starch
1 T. honey

FOR THE HIBACHI STEAK:
2 ½ pounds hanger, skirt, or flank steak
Salt and freshly ground black pepper
Sliced scallions, for serving
Toasted sesame seeds, for serving

FOR THE GRILLED WASABI POTATOES:
24 baby potatoes (about 2 pounds), scrubbed
1 T. sesame oil
1 to 2 tsp. Wasabi paste
1 tsp. salt
Metal or bamboo skewers (see notes)

DIRECTIONS:
To make the teriyaki glaze, in a small saucepan combine soy sauce, sugar, water, mirin, ginger, garlic, and red pepper flakes. Bring to a boil; reduce heat and simmer. Remove 2 T. sauce to a small bowl and whisk in cornstarch.

Return to the saucepan and continue simmering until the sauce thickens slightly, about 10 minutes. Remove from heat, stir in honey, and cool to room temperature while preparing the rest of the meal, or cover and refrigerate for up to one week. Bring to room temperature before using.

Remove steak from the refrigerator and let rest at room temperature for 30 minutes prior to grilling.

Meanwhile, bring 4 quarts water and 1 T. salt to a boil in a medium saucepan. Add potatoes and parboil for 5 minutes (do not overcook). Drain and cool slightly, until you can handle the potatoes. Transfer to a medium bowl. Add sesame oil, wasabi paste, and salt and toss to coat. Thread the potatoes on to skewers lengthwise.

Season the steak with on both sides with salt and pepper. Prepare a charcoal or gas grill for direct grilling over medium-high heat (about 375°F). Oil the grill rack. Grill directly over medium-high heat, turning 2 to 3 times, until well browned, about 6 to 10 minutes total depending on desired doneness.

Check the temperature with an internal thermometer (see notes for temperatures). Remove to a platter and tent with foil while grilling the potatoes.

Grill the skewered potatoes over medium-high heat, turning 2 to 3 times, until browned and cooked through, about 10 minutes. Remove to a platter.

Transfer the steak to a cutting board and slice against the grain. Serve with the teriyaki sauce and grilled potatoes, garnishing with scallions and toasted sesame seeds.

Notes:

If using Bamboo skewers, they must be soaked for at least 30 minutes prior to grilling.
For desired doneness, cook beef until thermometer registers:
Rare: 115°-120°
Medium-Rare: 120°-125°
Medium: 130°-135°
Well-Done: 150°-155°
Taste It & Make It!
Not only does this look absolutely appeasing to the eye but it is undeniable juicy, tender and perfect for any occasion.
Let us know how it turned out & if you have any suggestions on how to make it better!
This Recipe Was Adapted From: Culinary Hill
Photo Source: Culinary Hill