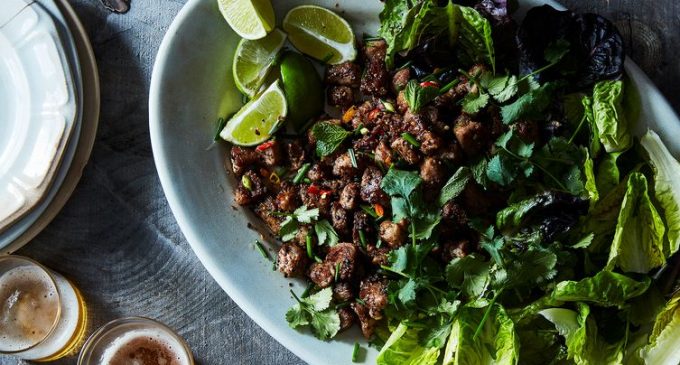 This recipe makes enough for about two to four servings but if you want plenty more, you can always double the ingredients. It takes about twenty minutes to prepare and about five to seven minutes or so to stir-fry. You won't have to wait long at all to dig in!
Let's Get Started!
The Ingredients To Gather:
1 pound boneless pork shoulder
1/2 teaspoon fine sea salt
1 tablespoon black peppercorns
2 teaspoons Sichuan peppercorns
Pinch of red chile flakes
1 tablespoon peanut oil,  grapeseed or safflower oil
1 teaspoon flaky sea salt
1/2 cup soft herbs, such as cilantro, mint, chives, or basil
1 small jalapeño or other chile
Crisp lettuce leaves, torn and/or sliced cucumbers, for serving
Lime wedges, for serving
The Step By Step Directions To Follow:
 Toss  pork cubes with  sea salt.  Coarsely grind together  black peppercorns, Sichuan peppercorns,  red chile flakes. If you've gone electric, be careful not to overdo it; you want some texture. Add  spices to  pork, tossing well. Let  rest  20 minutes at room temperature. Heat  skillet over high heat until very hot. Add  oil, let it heat until  shimmering.  Add  pork , sprinkle it with the flaky sea salt. Stir-fry until  pork cubes are golden brown all over, 5 – 7 minutes. Do this in a couple batches if needed. Transfer  pork to  platter, top  with  herbs, chile. Serve with lettuce and cucumbers, with lime wedges on the side.
Enjoy!
This crispy salt and pepper pork is so easy and delicious that you may want to make your pork shoulder like this as often as possible! Have you tried this pork recipe yet?
Let Us Know How You Liked It!
Article Source: Food52