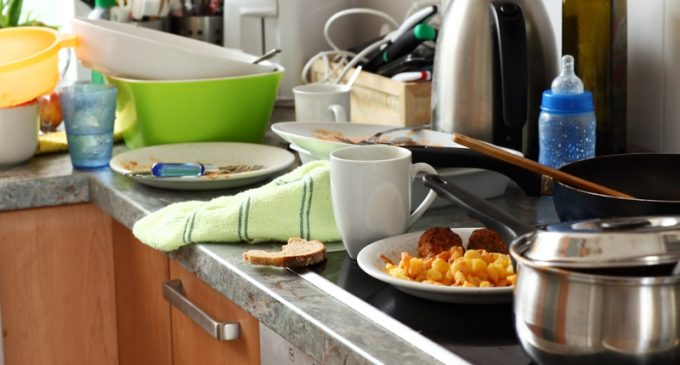 Cleaning the kitchen mess after we have just had a truly amazing meal is the least favorite part for practically everyone. It just takes so much scrubbing, hard work, and tons of time. These kitchen cleaning tips from last year are about to change everything for good. You'll be stunned what a difference they make!
The Kitchen Cleaning Tips Include:
 Cast iron, shouldn't be cleaned with soap.  Scrub lightly with a piece of steel wool, or soak  pan in vinegar diluted 50% with water.

If your cutlery is rusty, rub with salt,a lemon slice until the rust comes  off.
Enameled cast iron naturally discolors when grease burns onto sides of  pot,  scrub with water, Bar Keeper's Friend will wipe it clean.

Many kinds of oil will remove labels and their sticky residue from jars you'd like to clean and re-use. Mineral oil will do it, as will plain old olive oil.
Remove turmeric stains from  pale-colored ceramics by soaking  in  bleach solution, or a strong white vinegar solution, overnight.  Wash clean with soap,water.
Appliances that blend ingredients basically clean themselves. Add cleaning solvents plus water, press pulse/blend/pump, watch them froth up a lather.

If the idea of using oven cleaner on a greasy cooktop makes you unhappy, try Goo Gone—which is both powerful on grease and friendly on the range.
Besides being the most convenient and incredible abrasive for cleaning dishes, baking soda will also help unclog drains, de-skunk dogs, wipe clean crayon-covered walls,  wash the washing machine.
Zap a fishy smell from a room: Scrub residual fish grease from floor and walls, use a cut lemon to clean utensils,  set out a bowl of coffee grounds.

If hard water makes your glassware cloud after a spin in the dishwasher, try running them in a load with vinegar or citric acid in place of the detergent.
Deep-cleaning a butcher block is three-step, afternoon-long procedure,  it can be done without professional help! Wash off residue, sand down  surface, oil  fresh new layer you've unearthed.

Clean windows without leaving them streaky.  It involves sponges and squeegees.
The Last Tip: 
Instead of allowing a fine mesh strainer to dry, soak it right away in order to allow food that may be stuck to the little holes to come loose. Then you can just use a toothpick to get rid of any food that may still be stuck.
That's It!
These kitchen cleaning tips are so incredible, you may not cringe when you see all those dirty dishes ever again! Have you used any of these tips before?
Let Us Know What You Thought!
Article Source: Food52