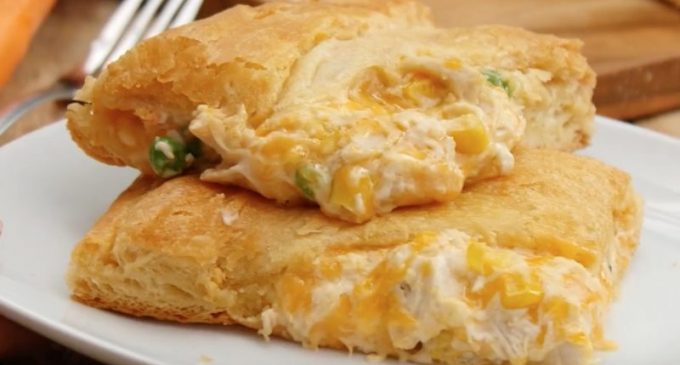 I guarantee no one else at the potluck will make anything like this!
We are always looking for new ways to make classic dishes. Bringing a little bit of modern to those family classics that we were served as kids. There are times when you shouldn't mess with a good thing, however, taking something that is good and creating a new way to enjoy it is half of the fun of cooking!
The best things to look at when trying to whip up new dishes are good ole fashioned comfort food. These recipes are handed down generation after generation. Their flavors have been perfected over the years and they have been tested over time. One of the best ones to date, at least in my family, is the classic Chicken Pot Pie!
There is something about a warm Chicken Pot Pie coming right out of the oven that just fills the whole house with the best aroma. Walking in you can practically feel the comfort coming from its ingredients.  One of the way's we can liven up this dish is by taking it and turning it into a lovely Chicken Pot Pie Braid!
In order to make this, you will need to gather up all of the ingredients into one place.
Ingredients:
2 tubes refrigerated crescent roll dough
1 cup frozen mixed veggies
½ cup cream of chicken condensed soup
1 cup chicken, cooked and shredded or chopped
4 ounces cream cheese
½ cup cheddar cheese, shredded
This recipe is for those who need a quick hearty meal. There are those who want to make everything including the dough from scratch which is also an amazing option, but for this, we are focusing on those who need to get out the door fast.
Now that we have everything together let's look at what to do with it. For those instructions keep reading.