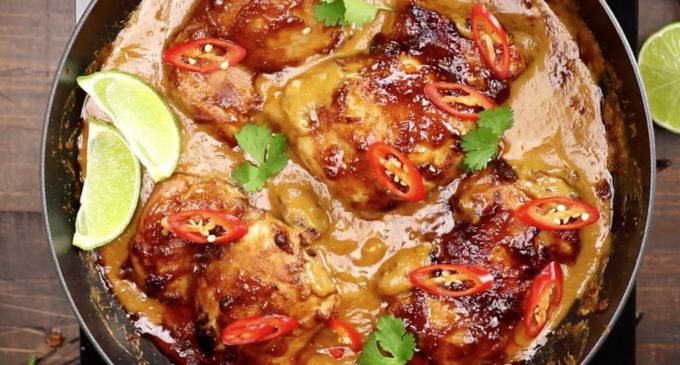 Always looking for a new way to prepare chicken? If so, you're in luck because we have this amazing dish that will knock your socks off.
Inspired by a Thai classic that's got amazing flavors, we took the staples of the recipe (coconut milk, peanut butter, lime juice, red curry paste, etc.) and went to town. As you will see later in this article it is super simple to make and packed full of flavor!
While satay chicken is typically served on a skewer, we knew that turning it into a skillet dish would make for an amazing family dinner – and it would mean less prep work for us, which is always a plus.
Once you get a nice sear on your marinated chicken, the sauce comes together super easily and you're in business! We served this all together for dinner, but still had some leftover sauce which, let us tell you, is good on anything…we put it on roasted vegetables the next day and it was amazing. This dish knocks it out of the park every time, so check it out and get cooking!
For The Full List Of Ingredients & The Delicious Step By Step Directions To Follow Please Head On Over To The Next Page For The Entire Recipe…
NEXT PAGE »