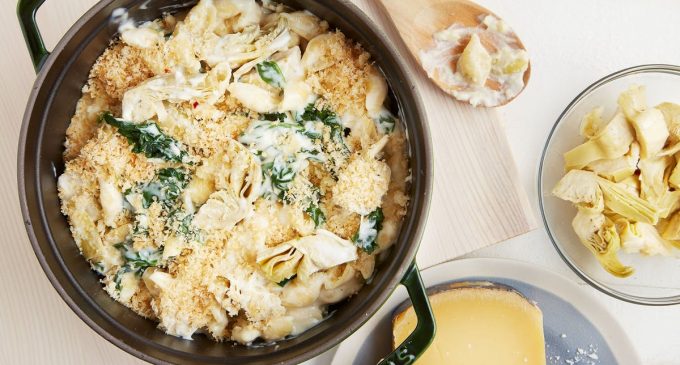 This Is Our Favorite Way to Dress Up Mac and Cheese!
You pretty much can't go wrong with good old-fashioned mac and cheese. It's one of those main courses that appeals to a wide variety of tastes and is ideal for both lunch and dinner. Plus, it goes well with pretty much anything, so you can serve a couple of veggies on the side or have it with a nice salad. Or, serve it as a side dish alongside a hearty meat dish. It's also quick and easy enough to make for a casual weeknight dinner when it's been a hectic day and you just don't have time to spend hours in the kitchen making an elaborate meal.
However, as much as we like this tried-and-true dish, we have to admit that it can get a little boring and mundane after a while. There are several ways to dress it up, maybe by adding some broccoli or perhaps some tuna or little smokies, but we recently discovered a rather fancy version of mac and cheese that we just can't get enough of. This variation uses spinach and artichoke, and tastes a little like that smooth and savory spinach and artichoke dip that so many of us adore. Yum!
To learn how to make this creamy spinach and artichoke mac and cheese, please continue to Page (2) for the full list of ingredients and complete cooking instructions.