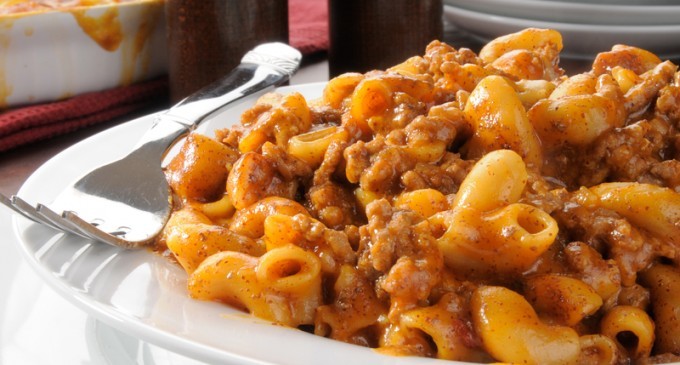 This amazing chili mac only takes thirty minutes to make, so you and your family will be enjoying dinner in no time! This recipe yields about four servings, so if you want extras you might want to consider making a double batch.
Things You Will Need:
1 tablespoon olive oil
2 cloves garlic, minced
1 onion, diced
8 ounces ground beef
4 cups chicken broth
1 (14.5-ounce) can diced tomatoes
3/4 cup canned white kidney beans, drained and rinsed
3/4 cup canned kidney beans, drained and rinsed
2 teaspoons chili powder
1 1/2 teaspoon cumin
Kosher salt and freshly ground black pepper, to taste
10 ounces uncooked elbows pasta
3/4 cup shredded cheddar cheese
2 tablespoons chopped fresh parsley leaves
Instructions To Follow: 
Heat olive oil in a large skillet over medium high heat. Add garlic, onion and ground beef, and cook until browned.

Stir in chicken broth, tomatoes, beans, chili powder and cumin. Bring to a simmer and stir in pasta. Bring to a boil; cover, reduce heat and simmer until pasta is cooked through.

Remove from heat. Top with cheese.

Serve immediately, garnished with parsley, if desired.
Finished!
Note: This chili mac is epic! We suggest pouring it over a hot dog on your favorite bun and enjoy with an ice cold frothy one on tap.
Let Us Know How It Turned Out & As Always… Happy Cooking & Enjoy Ya'll!
Article Source: Damned Delicious