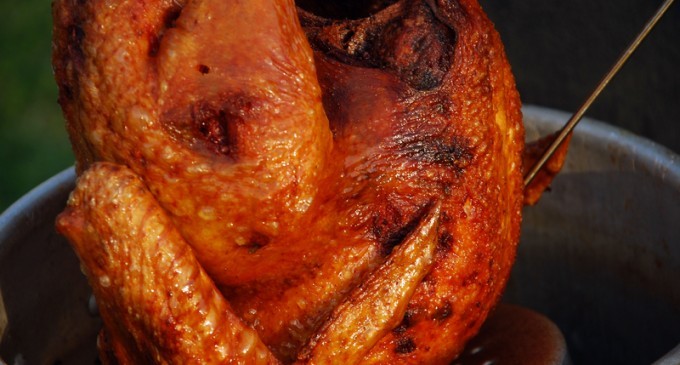 Whether It's Thanksgiving or Tailgating, The Lower 50 States Shouldn't Be the Only Ones That Enjoy Savory Deep Fried Turkey!
Most of us have grown up thinking that for a turkey to be moist and delicious it has to cook in the over for hours upon hours. We know this deep fried turkey will make a believer out of you that fast cooking the bird at a high temperature not only saves time in the kitchen but delivers in taste.
I know most of you are a bit timid to try the southern-cherished deep frying method, especially when it comes to experimenting with the star attraction at a holiday meal, however, we are confident that this recipe will become a go-to favorite for years to come.
And, since the frying time is approximately 40 minutes for a 15-18 lb. turkey, think of the time you will have to catch a little football, visit with Aunt Edna from Minnetonka, or perhaps treat yourself to a pre-meal glass of wine. Plus, with the oven free, you don't have to be a magician to try and coordinate your casserole and side dishes around when the turkey will be done!
For The Full List Of Ingredients & The Special Step By Step Directions On How To Make This Fantastic Little Recipe Please Go To Page (2)…