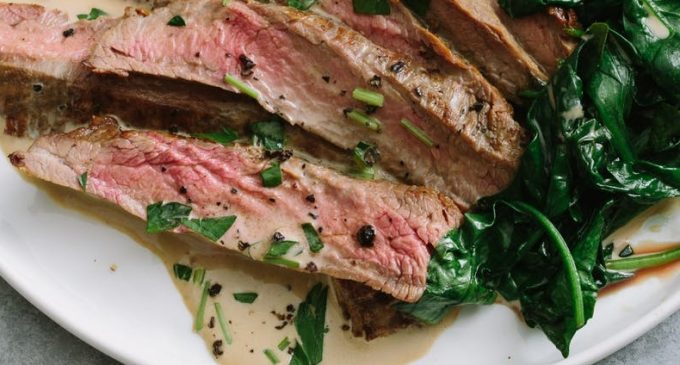 We've always loved flank steak; in fact, it may just be our favorite cut of meat! There's just something about its rich and savory flavor that we absolutely cannot get enough of. It's delicious and satisfying all by itself, but we found a quick and easy way to dress it up so that it's really something special. It's simple enough to make for a casual weeknight dinner, but elegant enough to serve at your next swanky dinner party!
The secret is adding a pan sauce, which is easy to make and requires just three ingredients. You start off with some potent bourbon to deglaze the skillet, which is then combined with heavy cream for a rich, savory and decadent sauce. Plus, as the mixture reduces, the bourbon becomes a little less sharp, creating a smooth, mellow sauce that's downright indulgent! There's also olive oil, beef broth, black pepper and chives. Yum!
To learn how to make this savory flank steak with bourbon cream sauce, please continue to Page (2) for the full list of ingredients and complete cooking instructions.