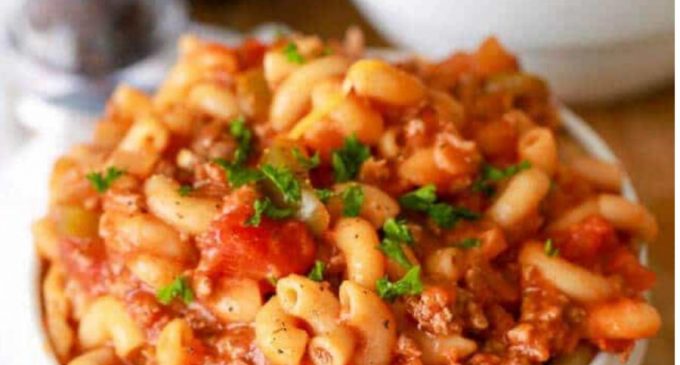 There are many variations of this dish and I am sure that every family believes that they have the best version of it, however, I will disagree and say that my Grandmothers version is by far the best there is. I think it has to do with that not so secret ingredient she put into it…love.
While Goulash itself is a recipe has been handed down through generations! My lovely lass of an Irish Grandmother put her heart and soul into everything that she cooked. She wowed everyone at church potlucks and bbq's that when she began to get older and could no longer spend as much time in the kitchen she began to teach us her ways.
For this particular recipe here is what we need:
INGREDIENTS:
2 onions, chopped
2 pounds lean ground beef
2 cloves garlic, minced
1 jar tomato based pasta sauce (approx. 26 oz.)
2 (14.5 oz) cans diced tomatoes, undrained
1 can (6 oz) tomato paste
1 tablespoon Italian seasoning
2 bay leaves
3 cups water
1 green bell pepper (optional)
salt & black pepper to taste
2 cups macaroni noodles, uncooked
1 cup cheddar cheese
 Macaroni Noodles
We normally serve ours up with a nice bread toasted and crunchy to add that extra texture to it so grab your favorite and begin toasting. Once you have done that let's look at what we need to do with the rest of these ingredients.
4 Comments
Write a Comment