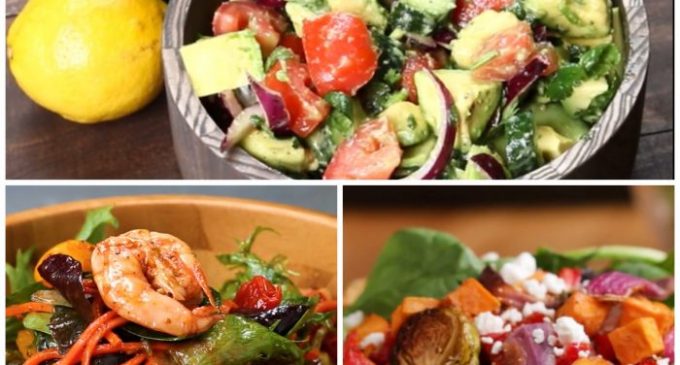 ROASTED SHRIMP & VEGGIE SALAD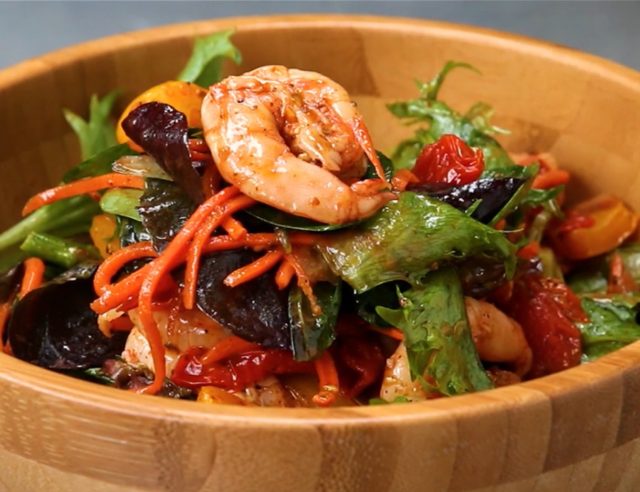 First up we have this protein packed salad that brings the taste of summer seafood to you. For this recipe you will need the following.
Ingredients:
1 cup cherry tomato, sliced
1 cup shredded carrot
1 cup yellow bell pepper, diced
1 cup red onion, diced
1 cup asparagus, diced
1 lb shrimp
olive oil, to coat
chili powder, to taste
fresh oregano, to taste
salt, to taste
pepper, to taste
lime juice, to taste
1 large handful mixed green
CHILI LIME VINAIGRETTE DRESSING
3 tablespoons lime juice
2 tablespoons olive oil
1 tablespoon honey
½ teaspoon chili powder
salt, to taste
pepper, to taste
Directions:
Preheat oven to 400˚F (200˚C).
Add cut vegetables to a baking sheet lined with parchment paper.
Drizzle in olive oil and sprinkle with seasonings to your preference. Bake for 10 minutes.
Move veggies to the side to make space in the center of the baking sheet and add shrimp in a single layer.
Drizzle with olive oil and sprinkle with seasonings and lime juice to your preference. Bake for 5-8 minutes, until shrimp is fully cooked. Be careful not to overcook.
Mix dressing ingredients together in a small bowl.
In a large salad bowl, combine mixed greens, roasted shrimp, veggies, and vinaigrette dressing together.
Serve and enjoy!
Super simple and super filling.
CUCUMBER, TOMATO, AND AVOCADO SALAD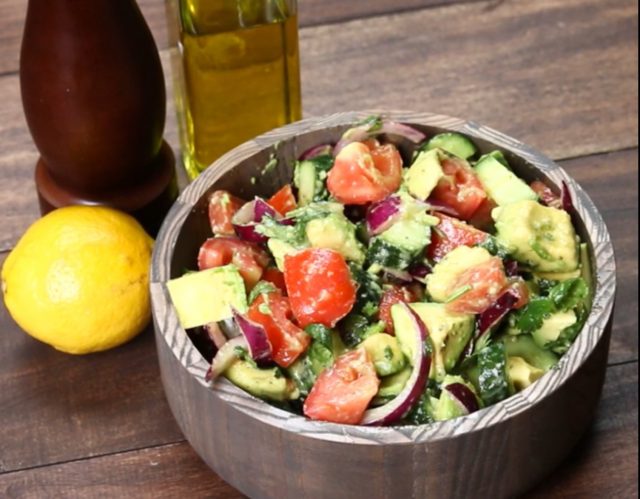 For those who are avocado addicts like myself this one is phenomonial.  I could literally cut an avocado sprinkle a tiny pinch of salt on it and eat it as is so this one is one of my favorites. Here is what you will need.
Ingredients:
1 english cucumber, diced
4 roma tomatoes, diced
3 ripe avocados, diced
½ red onion, diced
¼ cup fresh cilantro, chopped
1 lemon, juiced
salt, to taste
pepper, to taste
2 tablespoons extra virgin olive oil
Directions:
Slice then dice cucumber.
Slice then dice tomatoes.
Slice avocado and carefully remove stone. Scoop out inside and dice.
Peel onion and remove tops. Then slice.
Chop cilantro and place in a large salad bowl with previous ingredients.
Toss with olive oil, lemon juice, salt and pepper. Serve in a bowl.
Enjoy!
(*if you want a bit of extra protein on this salad I added in some walnuts for an extra crunch)
ROASTED VEGGIE SALAD WITH MAPLE VINAIGRETTE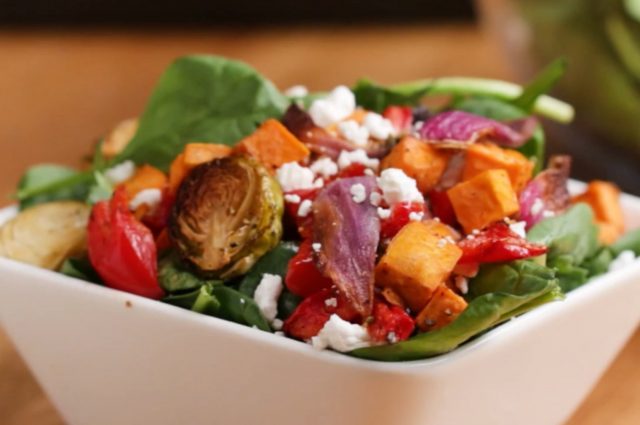 Ingredients:
1 bell pepper, chopped
1 lb sweet potato, skinned and chopped
1 lb brussels sprout, halved
1 red onion, sliced
1 teaspoon fresh oregano
1 teaspoon salt
1 teaspoon pepper
3 tablespoons olive oil
1 cup spinach, for salad base
1 tablespoon feta cheese, to garnish
DRESSING
3 tablespoons olive oil
2 tablespoons balsamic vinaigrette
1 teaspoon maple syrup
Directions:
Preheat oven to 400ºF (200ºC).
Combine all vegetables (except spinach) in large bowl and stir.
Add salt, pepper, oregano, and olive oil for the salad and stir.
Spread vegetables on baking sheet and bake for 40 minutes.
To prepare the dressing, combine olive oil, balsamic vinaigrette, and maple syrup in a small bowl and stir until well-combined.
In a bowl, add spinach and any other greens you prefer. Sprinkle roasted vegetables and feta cheese over the top.
Drizzle dressing over salad.
There you have it. Three salads that don't suck! Try them out and let us know what you think.
Source: Tasty