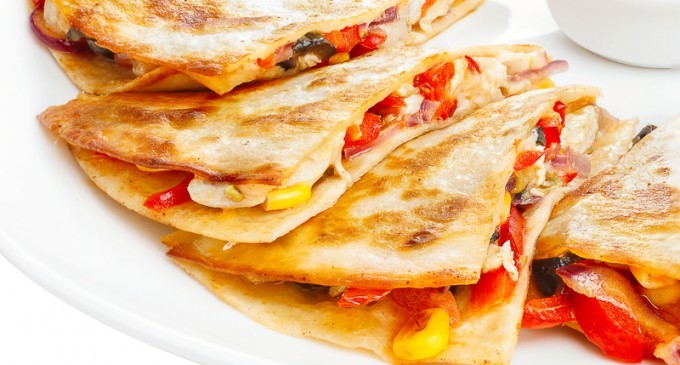 What we love about this recipe is that it's easy to customize. The sky's the limit when it comes to toppings and while some of these are listed as optional, we think the more the better!
Ingredients To Gather:
1lb Ground Beef
1 Can Re-fried Beans
1 cup shredded Cheese (you can also use a Cheese Sauce)
1 Packet Taco Seasoning
Tortillas (1 bigger than the other – you can cut one to size if needed)
Corn Tostada Shells or Broken Taco Shells
Cooking Spray
Directions To Follow:
Start by browning the beef and adding taco seasoning. Heat the refried beans and spread the beans and cheese in the center of the larger tortilla. Place a corn tortilla on top of the beans and then add any other toppings you want. Place the smaller tortilla on top of everything, then fold the edges of the larger tortilla so that it goes over the smaller one. Spray the finished product with cooking spray and brown on both sides in a skillet.
And you're done! This recipe takes just a few minutes of prep time and cooking time, making it ideal for a quick snack, lunch or dinner. Plus, it's so easy to make that the whole family will enjoy participating. You can even make it an event that will bring everyone together!
Article Source: MyFridgeFood