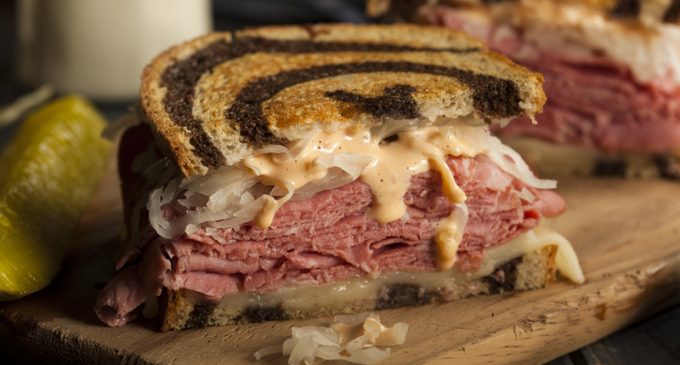 Here's everything you need for this savory homemade Reuben sandwich. This recipe takes just 15 minutes.
Ingredients to Gather
3 tablespoons Thousand Island Dressing
2 (1/2-inch-thick) slices rye bread
1 1/2 ounces sliced Gruyère or Swiss cheese
1 cup sauerkraut, drained and squeezed of excess moisture
4 (1/4-inch-thick) slices pastrami or corned beef (about 4 ounces)
1 tablespoon unsalted butter, softened
Directions to Follow
Spread 1 tablespoon of the dressing on one piece of bread and top with half of the cheese, half of the sauerkraut, and all of the meat. Spread another tablespoon of the dressing over the meat and top with the remaining sauerkraut and cheese, in that order.
Spread the remaining tablespoon of dressing on the remaining piece of bread and place it on top of the cheese, dressing side down. Press firmly to close the sandwich, then evenly spread the butter on the outside of the sandwich.
Now, take a heavy-bottomed frying pan and heat it over medium heat, and then place the sandwich in the pan and use a spatula to press it down. You can also use a sandwich press instead of a frying pan. Cook the sandwich for about 4 minutes, or until it has a golden brown color and is crispy. Then, flip it over and cook for about another 4 minutes, or until the other side is other crisp and golden brown, and the cheese is melted and the sandwich is heated all the way through.
Have you ever made a homemade Reuben sandwich? What do you think of this recipe? Share your thoughts in the comment section below!
Article Source: Chowhound