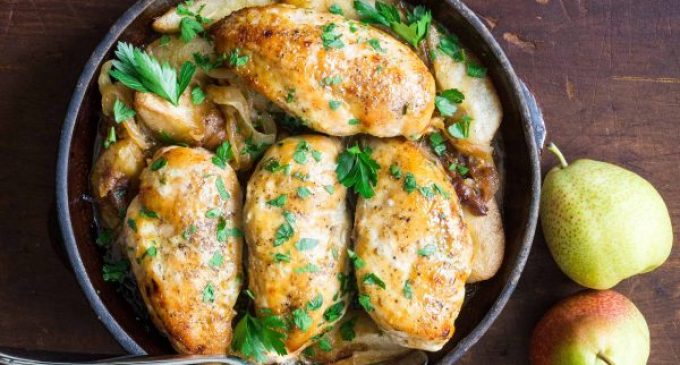 Now that fall is officially here we will find that pumpkin is not the only ingredient that will be taking over kitchens across America. Pears have also made quite a name for themselves as a staple in fall cooking in kitchens across America.
Take this next recipe for example. It uses pears, maple syrup, and various spices to create a flavorful blend of spicy and sweet. The best thing about this recipe is that you can make the entire thing in one cast iron skillet. Now for those of you who do not have one don't fret because any oven-safe pan will do. (If you don't have an oven-safe skillet, you can transfer the onions, pears, and chicken to a baking dish before sending it to the oven.)
So let's take a look at what we will need to make this delicious dish.
Ingredients
4 skinless, boneless chicken breasts (1 1/2 to 2 pounds total)
1 teaspoon salt, divided, plus more to taste
1/2 teaspoon ground black pepper, divided, plus more to taste
2 tablespoons olive oil
2 tablespoons butter
1 large Spanish or yellow onion, halved and thinly sliced
2 large ripe firm-fleshed pears (like Bartlett), or 3 smaller pears
2 tablespoons maple syrup
1 tablespoon Dijon mustard
3 tablespoons chopped fresh parsley
Now that we have everything in one spot let's look at the process we need to take in order to put it all together.