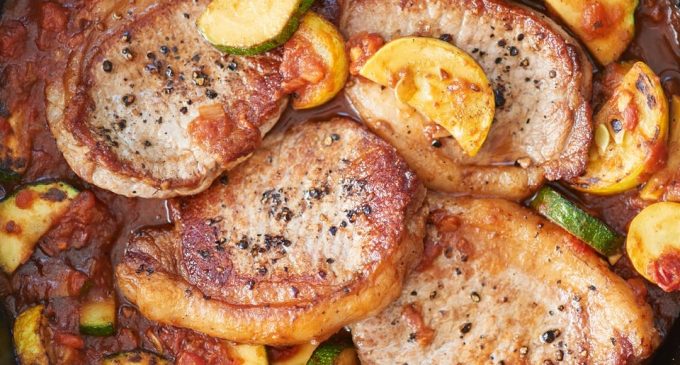 We'll Never Eat Plain Pork Chops Again After TryingThis Salsa Version
Sometimes you just don't have a lot of time to spend in the kitchen making dinner, or maybe you just don't have the energy to dirty up a lot of pots and pans and have several things cooking at once. That's why we frequently make this one-skillet salsa pork chop recipe. Don't worry about having a big mess to clean up later, because all you'll need is one skillet and you'll be done, meaning you can enjoy your meal without thinking about washing all of those dishes after you eat.
We've always liked pork chops as a main course because they're one thing everyone can agree on, and there are just so many ways to make them! This version is a bit unusual, because it uses salsa to give the pork chops a hot and spicy kick! There's another unexpected twist as well, with the inclusion of zucchini and summer squash. Combine that with the garlic and cilantro, and you have an amazing, mouthwatering blend of flavors that complement each other perfectly.
To learn how to make this hearty one-skillet pork chop recipe, please continue to Page (2) for the full list of ingredients and complete cooking instructions.