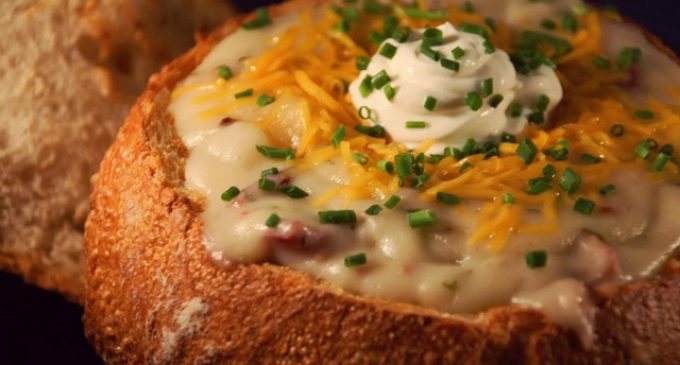 If you are making this for a large group of people I would recommend doubling this recipe. It says that it's for a serving of 6 but that also depends on how large your soup bowls are!
Directions: 
Soup:
Add the potatoes, onions, chicken broth, salt, and pepper to the slow cooker.
Set it to low for 6 hours or high for 4 hours.
In a saucepan, combine the butter, flour, heavy cream and sour cream. Whisk until thickened.
When the slow cooker is done, pour into the thickened mix. Stir, cover and set the slow cooker to low for another 30 minutes.
Serve with shredded cheese, bacon and chopped scallions.
*Tip:  I would recommend making a large batch of this. I like to save some and use it as lunch the following week!
Bread Bowl:
In a small bowl, dissolve yeast in warm water. In a large bowl, combine sugar, salt, yeast mixture and 3 cups flour; beat on medium speed 3 minutes. Stir in enough remaining flour to form a soft dough (dough will be sticky).

Turn onto a floured surface; knead until smooth and elastic, about 6-8 minutes. Place in a greased bowl, turning once to grease the top. Cover with plastic wrap and let rise in a warm place until doubled, about 30 minutes.

Preheat oven to 500°. Punch dough down. Divide and shape into six balls. Place 3 in. apart on two greased baking sheets. Cover with a kitchen towel; let rise in a warm place until doubled, about 15 minutes. Using a sharp knife, score surface with shallow cuts in an X pattern. Bake 2 minutes. Reduce oven setting to 425°. Bake 16-18 minutes longer or until golden brown. Remove from pans to wire racks to cool.

Cut a thin slice off the top of bread. Hollow out bottom half, leaving a 1/4-in. shell (discard removed bread or save for another use).
Tip: For a crackly exterior find on fancy artisanal bread, get steamy. A quick spritz of water into the oven or a light mist sprayed directly on the loaf right before baking should do the trick.
Have you tried this recipe before? If so what sort of tweaks have you made to help bring out the flavor? Let us know in the comments below.
Source: Tasty