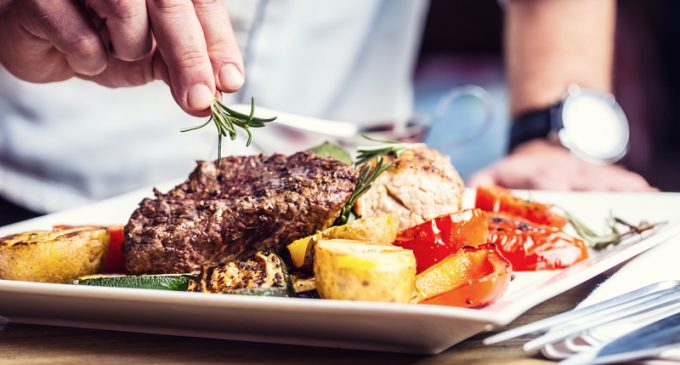 Here are what five of the world's most renowned chefs have to say about cooking steak. Some of these suggestions are surprisingly simple, especially considering they come from gourmet chefs!
Michael Symon, "The Chew" co-host and owner of Lola Bistro and Mabel's BBQ in Cleveland
"Rib eye is my absolute favorite cut of beef: it's fatty, tender, and delicious!" said Chef Michael Symon. "At my restaurants, we age USDA prime rib eyes for 24 to 30 days, which results in an incredibly juicy, flavorful steak. They're best grilled over lump charcoal — nothing compares to the tastes that comes from cooking over live fire."

Guy Fieri, "Diners, Drive-ins and Dives" host
"The key is to start cooking the steaks at high heat so the outside gets the nice brown crust, then move 'em to a more moderate environment so that the meat can be cooked just right without scorching the outside or overcooking the inside," Guy Fieri said. "That medium-heat situation can be achieved either by moving the steaks from the direct heat part of the grill to the indirect side, or by putting them in a moderately hot oven."

Scott Conant, "Chopped" judge and chef/owner of Fusco (New York City), The Ponte (Los Angeles) and Mora (Phoenix)
What you do after the steak is cooked is almost as important as how you cook it. Scott Conant
"With steak, people don't take the proper time to let it rest after cooking," Chef Conant said. "Allowing the meat to rest for about a third of its cooking time will ensure the meat is more tender and less dry. The juices remain in the meat and not on the cutting board when it's cut up."

Donatella Arpaia, "Iron Chef America" judge, and chef and partner of Prova Pizzabar in New York City
"Sprinkle steak generously with high quality salt — I love a black smoked sea salt — and pepper, and leave in fridge uncovered for a couple hours," said chef Donatella Arpaia. "An hour before grilling, take out of the fridge so steak comes to room temperature. Whether you are using gas or coal, make sure you have medium to high heat on one side and no heat on the other. Brush with good quality olive oil, place on grill, and don't touch! Let it get a beautiful sear, three to four minutes on each side depending on thickness, then move to indirect heat and cover. Cook to medium rare. Once you take off grill, cover with tin foil and let it rest a few minutes before slicing."

Robert Irvine, "Restaurant Impossible" host
"First of all, dry the steak, and season it well both front and back with fresh ground pepper and sea salt," Robert Irvine said. "Then, use a cast iron skillet to pan sear it and finish it in the oven."
What do you think of these tips for cooking steak? Have you tried any of them? What are some of your favorite steak tips and tricks? Share your thoughts in the comment section below!
Source: This Is Insider
http://www.thisisinsider.com/best-steak-recipes-celebrity-chefs-2017-8