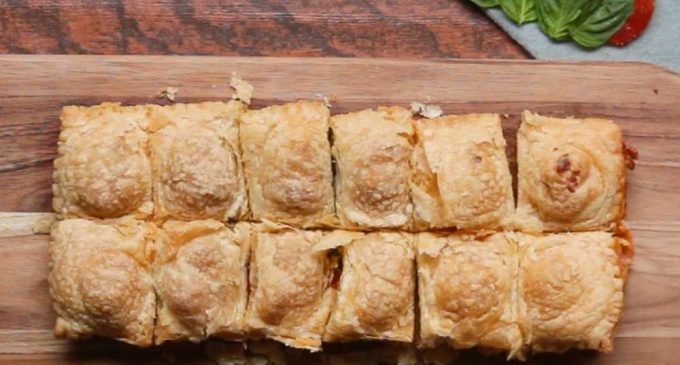 One of the great things about this recipe is not just the simplicity but the creativity of the dish. Just like any dish that calls for a mold you can get creative with it by using various sizes and shapes.
For example I used a heart mold this past Valentine's Day and it was a smash hit! So use your imagination and get to cooking!
Ingredients:
1 cup ricotta cheese
½ cup fresh spinach, cooked
½ cup artichoke heart, cooked and chopped
½ teaspoon salt
½ teaspoon pepper
1 package frozen puff pastry, thawed
¼ cup shredded mozzarella cheese
8 pepperonis, chopped
3 tablespoons marinara sauce
¼ cup roasted red pepper, chopped
2 tablespoons pesto
1 mozzarella pearl
2 tablespoons butter, melted
Directions:
Preheat oven to 400˚F (200˚C).
In a medium-sized mixing bowl, combine the ricotta, spinach, artichokes, salt, and pepper, and mix until fully incorporated.
Lay a sheet of puff pastry dough over the ice cube tray and carefully press into the dough forming it to the ice tray.
Place the shredded mozzarella, pepperonis, and marinara in the first four cube divots.
Place the roasted red peppers, pesto, and mozzarella pearls in the middle four cube divots.
Spoon the ricotta mixture into the last 4 cube divots.
Place the other sheet of puff pastry over the ice cube tray and use a rolling pin to seal it. Chill for at least 10 minutes.
On a parchment paper-lined baking sheet, invert the ice cube tray releasing the puff pastry pockets.
Using a knife, cut any excess dough from the sides.
Using a fork, press into the the edges of the pastry and seal.
Brush the pastry with butter and bake for 30 minutes.
Enjoy!
There you have it. A perfectly prepared appetizer that will wow any crowd.
What sort of filling would you use? Let us know in the comments below.
Source: Tasty.co