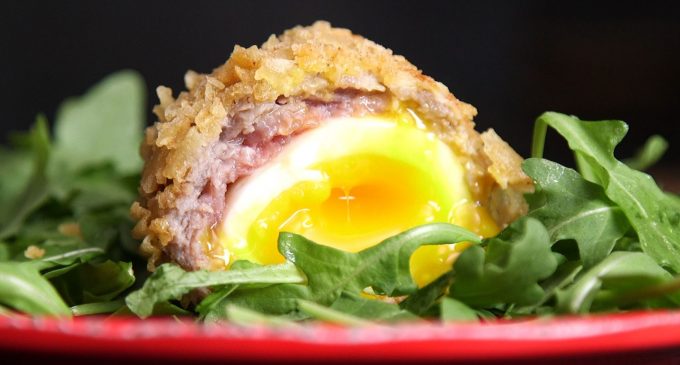 If you have never tasted the wonderfulness that is the Classic Scotch Egg then you are missing out. It is a fabulous breakfast that is super simple and perfect for those who are on the go. I have seen people devour this breakfast in one bite and go back for more!
We have taken the Classic Scotch Egg and kicked it up a notch. Normally the Scotch Egg is coated in breadcrumbs but we have decided to try something else and boy are we glad that we did. Rather than make this dish with simple often unflavored breadcrumbs why not make it with potato chips instead! Seriously, the crunch is way better and the flavors you can experiment with are endless! Here is what you will need to make these delicious breakfast bombs.
Ingredients:
6 eggs
1 pound breakfast sausage, out of casings
2 cups potato chips, crushed (any kind will do)
1 cup flour
3 eggs, beaten
Arugula
Oil for frying
Now that you have all of that let me show you how simple these are to create!