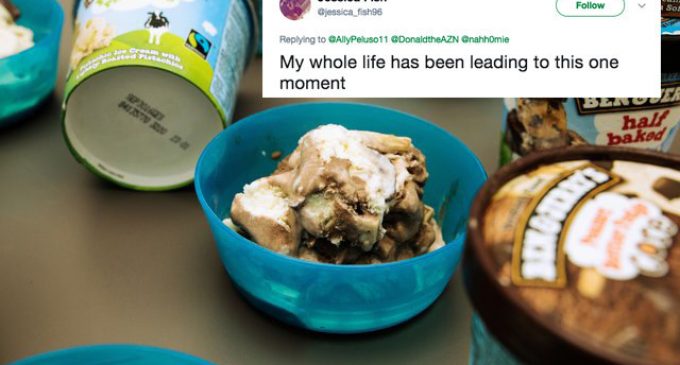 I love when people tap into their everyday genius! There are some things that we see online and we know from the get-go that they are just not gonna work- don't even try! For example- for everyone who tried to use blue mouthwash as a foot cleanser and found your feet looking like Papa Smurfs…our heart goes out to you.
Then there are the times when everyday people shine through. They reach somewhere into their inner Einstien and bring to light the most amazing hacks that the world has seen and the internet, in turn, goes wild! This is such a hack and guess what….we won't even make you go through pages of posts just to hear what it is!
Step 1: Go get a yeti cup! Seriously these stainless steel monsters of the thermos world are well worth the investment it takes!
Step 2: Purchase a pint of your favorite Ben & Jerry's (Here's looking at you Cherry Garcia!)
Step 3: Place a tiny bit of ice at the bottom
Step 4: Place the pint (container and all) into the cup and there you have it! Ice cream on the go!
The best part of this is that Yeti is known for keeping things cold beyond what we could ever imagine so this hack changes everything! Especially if you have children! Man, imagine the joy on their faces of being able to take them to the park and have ice cream all in one day!
Source: @DonaldtheAZN