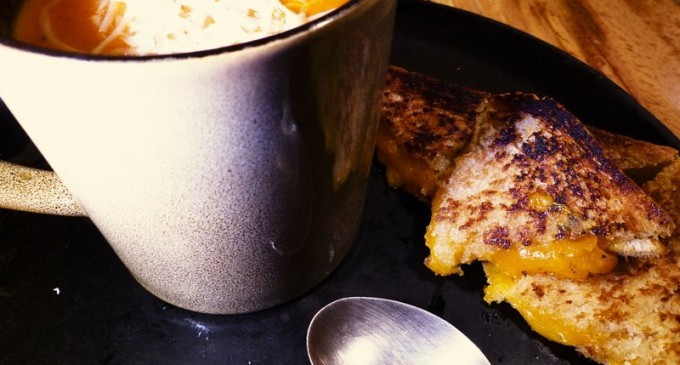 In my opinion, the secret to the perfect grilled cheese lies in the prep and ingredients. So, lets go through the exactly what we need to get started.
Ingredients 
1 Loaf of Sour Dough Bread
1 Large Block of Aged Sharp Cheddar Cheese
1 Large Block of Provolone Cheese
1 Stick of Organic Butter
1 Bottle of Natural Garlic Salt
Alright, so now that we have the necessary ingredients, lets start making this grilled cheese paradise a reality.
First things first, get a large skillet out and warm it up under very low heat on your stove.
While your skillet is getting hot, you are going to want to evenly butter each slice of bread, (one one side only), and lightly sprinkle an even coat of garlic salt across buttered side of bread.
Next up comes the slicing. Its important to slice your cheese into pieces that are not too thick, yet not too thin. I generally go with about one eight of inch. Follow this process for both your sharp cheddar, and provolone cheeses.
Now you are going to layer you cheeses. One cheddar, one provolone, until you have a total of 4 slices thick across the entire length of one piece of sourdough, (butter and garlic side down). Next you marry your pieces of bread together to create your sandwich, cheese in the middle, and your garlic spread on the outside.
Alright, since we are all prepped and ready, lets start the grilling. Gently place your sandwich in your pre heated pan. Grill your sandwich until a light golden brown is reached on the bottom hot side  and flip. Be sure not to burn your sandwich, however, continue flipping as needed until your cheese has fully melted.
Thats it, the secret to the best Grilled Cheese you'll ever eat (at least thats what my kids tell me). Now you can have some fun decided what you're gonna dip that melty treat in! Perhaps some yellow mustard, or if your felling really adventurous, maybe you want to tackle the task of heating up some creamy tomato bisque. Whatever you decide, I'm almost positive your only a couple bites away from grilled cheese bliss!
Be sure to share your cheesy stories below!
Article contributed by S.B. Mc.