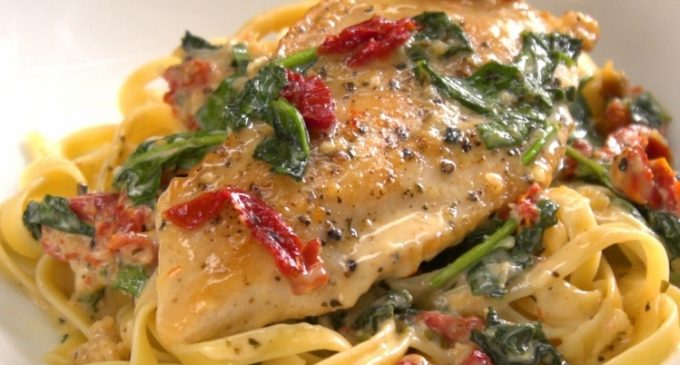 The Tuscan countryside has influenced chef's around the world. The flavors and aromas show up in practically every pasta dish and there are entire restaurants based off of this particular style of cooking (here's looking at you Olive Garden).
So why is this style so popular? The answer is in fact quite simple. The flavor palate is delicious! There is nothing secret about it, this style of cooking has made its way West a long time ago and it's not going anywhere nor would we want it too!
One of our favorite creations that highlight this style is Tuscan Chicken. The chicken is infused in its own broth and fresh spinach and sun-dried tomatoes are added to bring out all the flavors! Here is what you will need to create this amazing dish!
Ingredients: 
4 Boneless Skinless Chicken Breast Halves

2 Tablespoons Olive Oil

1 Cup Heavy Cream

½ Cup Chicken broth

1 Tablespoon Minced Garlic (or 1 teaspoon garlic powder)

1 teaspoon Italian Seasoning

½ Cup Parmesan Cheese

1 Cup Chopped spinach (about 1½ ounces)

½ Cup Sun-dried Tomatoes, sliced thin

8 Ounces Fettuccine or Linguini pasta, cooked (to serve)
Once you have all of that in one spot it's time to put it all together!
4 Comments
Write a Comment