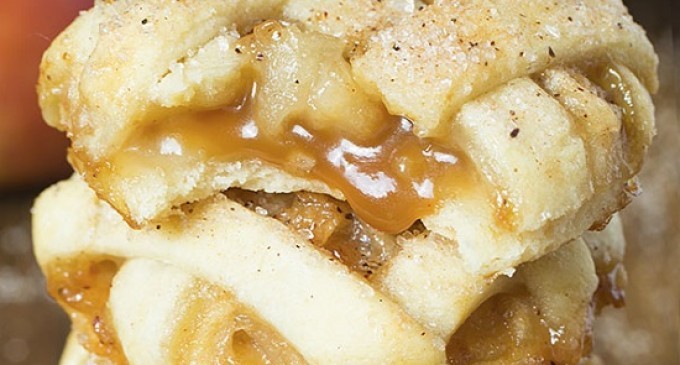 My kids love cookies and mama's homemade deserts, so here is something that combines the two. You will be sure to make the kiddies very very happy when you make these wonderful treats!
Let's Get Started Mixing Everything Together…
Ingredients To Gather:
For The Apple Pie Filling:
3 apples (about 1 lbs.)

1-2 tablespoon lemon juice

3 tablespoon white sugar

3 tablespoon brown sugar

3 tablespoon corn starch

½ teaspoon cinnamon

A dash of nutmeg

¾ cup water
For The Buttery Pie Crust:
1 cup (2 sticks) unsalted butter

2½ cups all-purpose flour

1 teaspoon sugar

¼ cup ice water
For The Rich Apple Filling & The Topping:
1¾ cup apple pie filling-chopped into small pieces
1 cup caramel sauce
1 egg
1 tsp cinnamon
¼ cup sugar
The Step By Step Directions To Follow:
1. Toss sliced apples with lemon juice and set aside.
2. In a saucepan or a pot combine cornstarch, sugar, browned sugar, cinnamon, nutmeg and water. Stir well and bring to a boil over medium-high heat whisking constantly. Let it boil 2 minutes until thick, then stir in apple slices.
3. Reduce heat to low, cover the pot and let it simmer about 10 minutes.
To Make The Pie Crust:
1. In a large mixing bowl place flour, salt and sugar and mix to combine.
2. Using a pastry blender incorporate chilled butter cubes into the flour mixture(the mixture should resemble coarse meal)
3. Drizzle 2 tablespoons ice water over the mixture and blend, repeat with another 2 tablespoons water. When you squeeze the dough it should holds together.
4. Divide the dough into two equal pieces, flatten and form two disc, pack each disc with plastic wrap and refrigerate 1 hour.
5. Lightly dust working surface with flour, place chilled dough, dust the dough and the rolling pin, too. Turn the dough as you rolling to prevent it from sticking. Roll it out ⅛-inch thick.
To Assemble The Apple Cookies:
1. Preheat the oven to 350 F, line cookie sheet with parchment paper, spray with non-stick spray and set aside.
2. Spread the caramel sauce onto one pie crust.
3. Spread chopped apple pie filling over caramel and gently tap the filling with your palms.
4. Cut second pie crust into ½ inch strips and create a lattice top over the filling.
5. Using round cookie cutter (about 2.5 inch) cut out the cookies and place them onto baking sheet.
6. Beat the egg with a fork and brush the top of cookies.
7. Combine cinnamon and sugar and sprinkle the cookies generously.
8. Bake 20-30 minutes.
Finished!
You Can Use Whatever Type Of Apples That You Want. We Prefer Red Because They Are Sweeter But You Can Always Use Green Or Yellow.
Happy Cooking & Enjoy Ya'll!
Article & Photo Source: OMG Chocolate Desserts
Pie Crust: Martha Stewart