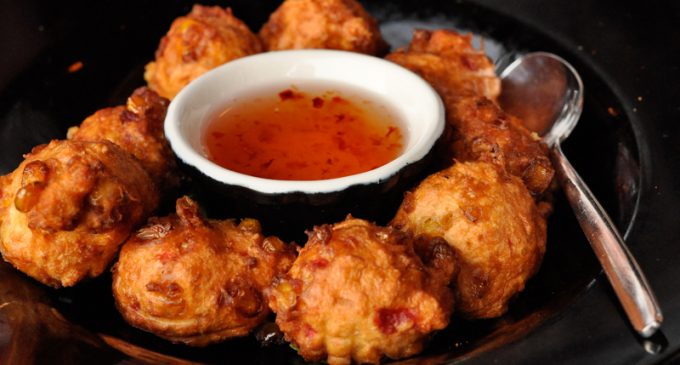 Here's everything you need for these savory corn fritters. This recipe makes 15 3-inch fritters.
Ingredients to Gather
1 1/2 cups all-purpose flour
2 tablespoons fine white cornmeal
1 tablespoon granulated sugar
2 teaspoons baking powder
1 teaspoon kosher salt
1/2 teaspoon cayenne pepper
3 cups fresh or frozen corn kernels (from 3 cobs)
1/2 medium jalapeño pepper, seeded and minced (optional)
2 tablespoons finely chopped fresh chives
1/2 cup whole milk
2 large eggs
1/2 cup vegetable oil
Directions to Follow
Mix the dry ingredients. Whisk the flour, cornmeal, sugar, baking powder, salt, and cayenne pepper together in a large bowl.
Toss corn, jalapeño, and chives with the dry ingredients. Add the corn, jalapeño if using, and chives. Toss with your hands or a spatula until the vegetables are coated.
Prepare the batter. Mix the milk and eggs together in a measuring cup until incorporated, then pour into the flour and corn mixture. Stir with a spatula until all of the flour is moistened. The batter will be quite thick, but do not overmix. Set aside while you heat the oil.
Heat oil and fry the fritters. Heat the oil into a large cast iron skillet over medium heat until shimmering. Drop 4 (1/4-cup) portions of the batter evenly around the pan and flatten each slightly with the back of a spoon or a spatula. Cook until golden-brown on the bottom, 2 to 3 minutes. Flip with a flat spatula and cook until puffed, brown and cooked through, 2 to 3 minutes more. If using frozen corn kernels, they may need 1 to 2 minutes more cook time per side.
Drain and serve the fritters. Transfer the fritters with a spatula to a paper-towel lined plate. Continue making fritters with the remaining batter. Transfer finished fritters to a serving plate and serve warm or at room temperature.
Have you ever made corn fritters? What do you think of this version? Share your thoughts in the comment section below!
Article Source: The Kitchn