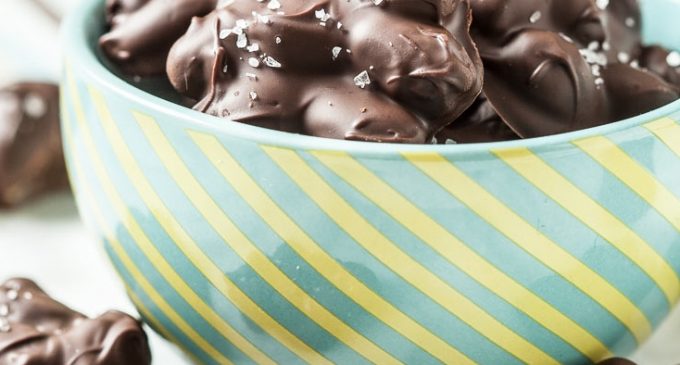 I love when a dish is so easy to prepare it almost makes itself! Seriously these are that easy and they are perfect for any bake sale, potluck or weekend at home watching movies. It's also good to keep in mind that they make great homemade gifts for friends, neighbors or people around the office.
In order to get the most out of this, you have to start with a really really good base ingredient and that is the chocolate! I never skimp when it comes to the chocolate used to make this delicious treat as it is, in my opinion, the star of the show. I always splurge and get Ghirardelli 60% Cacao. While this may be more of a tart chocolate it pairs wonderfully with the almonds to make the best flavor. If you have more of a sweet tooth you can always use semi-sweet chocolate as it tends to be a tad sweeter than most. I have even had some friends get festive and use white chocolate and then drizzle the colors of the season over it as a final touch. Orange for Fall/Halloween, a brown and orange combo for Thanksgiving and of course the ever-present red/green colors for Christmas!
No matter how you make it here are the base ingredients you will need.
INGREDIENTS
36 oz roasted, lightly salted almonds
24 oz high-quality dark chocolate chips (I use Ghirardelli 60% cacao. Use semi-sweet if you prefer it slightly sweeter)
Flaky sea salt for a light dusting on top
Now that you have that let's look at what we need to do in order to make this wonderful treat.