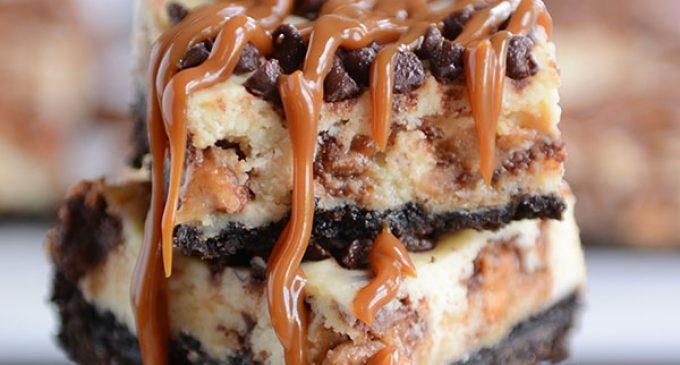 A Little Goes a Long Way With These Rich Dessert Bars!
We have a little confession to make: around here, we're all hardcore chocoholics! We also have an insatiable sweet tooth that just can't be tamed and prompts us to come up with increasingly creative and clever ways to get our sugar fix. We have a lot of desserts we really like, and that also always hit the spot, but sometimes we can't choose between them. And sometimes we just have a really intense craving that requires pulling out the big guns. That's when we make these luscious and indulgent caramel Snickers cheesecake bars.
These bars are the perfect snack to make for potluck dinners and summertime backyard BBQs, and they're also a nice surprise to stick in the kids' lunch box to make getting through a long day of school just a little bit easier. You start with an Oreo cookie crust, which is then topped with cheesecake and Snickers bars, along with some sinfully delicious caramel drizzled on top to make it all the more awe-inspiring. This is definitely no ordinary dessert!
To learn how to make these decadent caramel Snickers cheesecake bars, please continue to Page (2) for the full list of ingredients and complete cooking instructions.