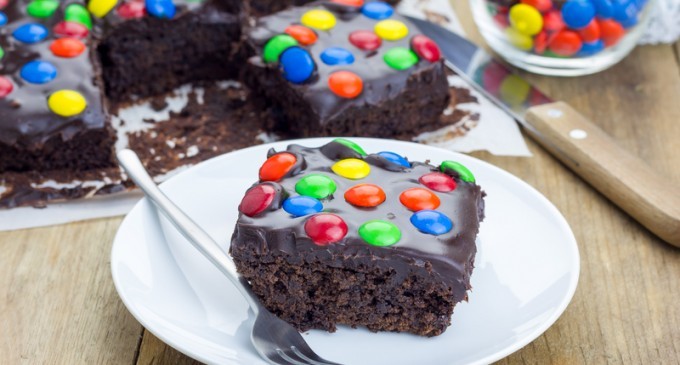 Here's everything you need for these delicious brownies. They require just 28 minutes total time, including prep time and cooking time.
Let's Get Started… 
Ingredients To Gather:
1¼ c. all-purpose flour
¾ c. natural unsweetened cocoa powder
1 c. sugar
⅔ c. brown sugar
¾ c. (1½ sticks) butter, melted
2 eggs
3 tbsp. whole milk
½ tsp. baking powder
1 tbsp. cornstarch
pinch of salt
2 tsp. vanilla extract
The Rich Fudge Ganache To Pour On Top:
1 c. semi-sweet chocolate chips
½ c. milk chocolate chips
½ c. heavy cream
Directions To Follow:
Preheat oven to 350 degrees. Line a 9×13 baking dish with foil and lightly spray with baking spray such as Pam, set aside.
In the bowl of a stand mixer, beat melted butter, sugars and vanilla until light and fluffy, about 2 minutes. Add eggs, one at a time, mixing until incorporated.
In a medium size mixing bowl whisk together flour, cocoa powder, baking powder, cornstarch, and salt. With mixing speed on low, alternate adding dry ingredients and milk. Mix just until combined.
Remove bowl from stand and pour batter into prepared pan. The batter will be thick, so using a rubber spatula, spread into an even layer. Place in oven and bake for 18-25 minutes (I live in high altitude so my bars tend to bake quicker). The brownies will be done, so do not over-bake or you will have dry brownies! Remove from oven and allow to cool in the pan.
Meanwhile to prepare the ganache, in a 2 c. glass measuring cup, combine chocolate chips and heavy cream. Microwave on half powder (mine is usually power 10, so I did 5) for one minute, stir, then repeat. Stir chocolate until all of the chips are melted and it becomes smooth. Beat for 1 minute and then pour over the top of the brownies. Spread evenly and sprinkle with desired toppings.
Finished!
These brownies are packed with so much flavor we couldn't believe our taste buds when we tried them! They take less than half an hour, which means you can whip up a batch if you have surprise guests or need something quick for dessert. They also make a great snack, especially when served with a tall glass of ice cold milk.
Enjoy!
Article Source: Life Made Simple