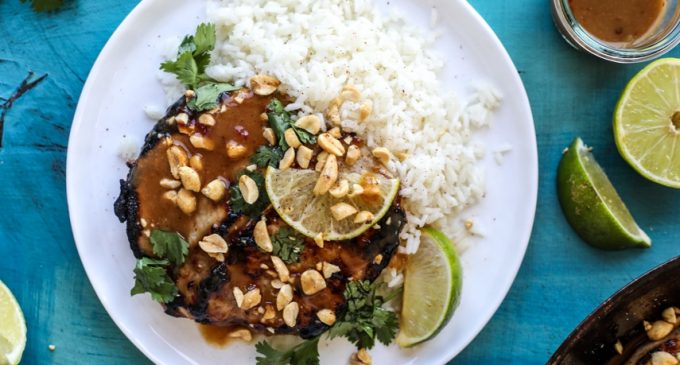 This Spicy Version of Pork Chops Really Jazzes Up Any Dinner!
When we're not sure what to make for dinner, we often opt for pork chops. They're tasty and guaranteed to be a hit with even the most diverse crowd, plus there's just so many ways you can dress them up. Bread them, add a sauce or gravy…you can have pork chops every single night and still make it a completely different meal.
So, we were very excited to discover this recipe for Thai skillet pork chops. They have plenty of amazing seasoning, including sweet chili sauce, brown sugar, garlic, ginger, and lime, along with peanut butter, rice vinegar, soy sauce and coconut milk. It sounds like kind of a strange combination, but believe us, it works! Plus, there's an amazing jasmine rice on the side that makes it a full meal.
To learn how to make these mouthwatering Thai skillet pork chops with coconut rice at home, please continue to Page (2) for the full list of ingredients and complete cooking instructions.