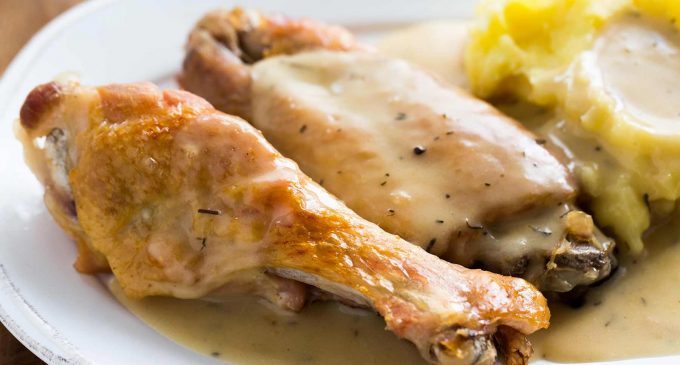 This recipe makes enough for about six servings but if you want plenty leftover, you can always double the ingredients. They take about ten minutes to prepare and about two hours and forty minutes to cook so the meat falls off the bone. They will smell so divine, your mouth will be watering before even try them!
Let's Get Started!
The Ingredients To Gather:
 Wings:
6 whole turkey wings
1 Tbsp olive oil
Salt
Stock:
2 Tbsp olive oil
1 carrot
1 half onion
1 celery rib
3 cups water
1/2 teaspoon salt
Gravy:
3 Tbsp butter
3 Tbsp flour
3 cups of turkey stock (that you make in step 3)
1/2 teaspoon yellow mustard
1/2 teaspoon salt
1/4 teaspoon pepper
1/2 teaspoon dried thyme
1/4 cup cream
The Step By Step Directions To Follow:
1  Separate each  wing into 3 segments—drumette, flat, and tip. Set aside tips for  stock.

2 Place turkey wing drumettes, flats, skin side up, onto  rimmed baking sheet or roasting pan. Toss with olive oil. Sprinkle with salt. Cover with aluminum foil, put into  275°F oven  2 1/2 hours.
3  While turkey wing drumettes, flats are roasting, make stock with  =tips. Heat 2 Tbsp olive oil in pot on medium high heat. Add wing tips, brown on all sides. Add  chopped carrot, onion,  celery, sauté  for a few minutes with  wings.

Add 3 cups of water, enough to cover the wings , vegetables,  salt. Bring to  boil on high heat,  reduce to a low simmer on lowest setting. Cover, simmer while  wings roast in  oven, a couple of hours.

4  When  wings are close to being done, strain stock so you can start making the gravy. Remove, discard largest solids from  pot.  Strain  rest of  stock through a fine mesh strainer. Reserve  stock.

5  Make a roux by melting 3 Tbsp butter in  pot, on medium heat. Add  flour, whisk to combine. Let roux cook, bubble for a minute or so.

Whisk in  turkey stock you made, whisking constantly to break up  lumps. Whisk in mustard, salt, pepper,  thyme. Whisk in  cream. Simmer on low heat to thicken.
6 After 2 1/2 hours of slow cooking in oven,  wings should be fall apart tender.  Remove foil, place wings on a rack a few inches under the broiler. Broil for 5 minutes or so, until  wing skin gets somewhat browned.
The Additional Directions To Follow:
Put your wing pan drippings into your gravy to make it even more flavorful. If your drippings are really stuck to your pan, place your pan on-to the stove top, turn on your burners. Combine a cup of water to your pan to help remove your drippings. Combine your drippings with your gravy. Place your gravy over top of your wings.
Enjoy!
These smothered turkey wings are so delicious, you might want to make them all the time! Have you tried these turkey wings before?
Let Us Know What You Thought!
Article & Photo Source: Simply Recipes