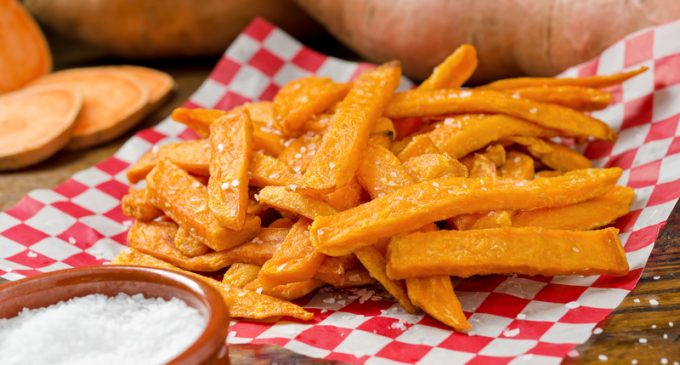 This recipe makes enough for about four to six servings but if you want more, you can just double the ingredients. They take just a few minutes to prepare and about twenty to twenty-five minutes to roast in the oven. You won't have to wait long at all to dig right in!
Let's Get Started!
The Ingredients To Gather Are:
1 large sweet potato (about 1 pound)
2 tablespoons potato starch or cornstarch
1/2 teaspoon kosher salt
3 tablespoons vegetable oil
The Step By Step Directions To Follow:
 Arrange a rack in the middle of the oven and heat to 400°F.
Peel the sweet potato and cut it into 1/4-inch-thick sticks or wedges.
Place the sweet potato in a large zip-top plastic bag, add the cornstarch and 1/2 teaspoon salt, and shake to combine. (Alternatively, place everything in a large bowl and toss together.)
Add the 3 tablespoons of oil to the bag or bowl and toss vigorously to coat.
Coat a rimmed baking sheet with oil. Spread the coated sweet potato wedges out into a single layer on the baking sheet.
Roast 15 minutes. Using a flat spatula or turner, flip the sweet potatoes and continue to roast until the fries are tender on the inside and crispy on the outside, 5 to 10 minutes more.
Season and serve: Sprinkle with additional salt if desired.
Recipe Notes
These sweet potato fries are best eaten the day they are made.
Serve And Enjoy!
These sweet potato fries are so good you may want to make them all the time! Have you tried these sweet potato fries before?
Let Us Know How You Liked Them!
Article Source: The Kitchn