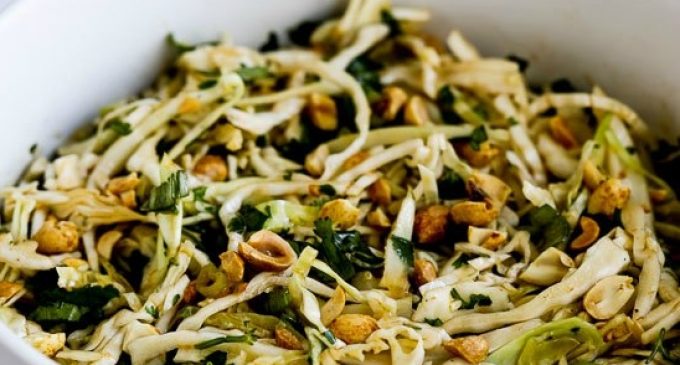 Here's everything you need for this spicy cilantro peanut slaw. This recipe makes between four and six servings.
Ingredients to Gather
1/2 large head green cabbage, very finely chopped
1/2 cup peanuts, chopped (or more)
1/2 cup thinly sliced green onions
1 bunch cilantro, chopped (use at least 1/2 cup chopped cilantro, or more)
salt and fresh ground black pepper to taste

Dressing Ingredients:
2 T rice vinegar (not seasoned)
1 T sweetener of your choice (I used Monkfruit Sweetener)
2 tsp. sesame oil
2 tsp. soy sauce
2 tsp. Sriracha sauce (or less, or this can be left out for a less spicy version)
1/4 cup canola or peanut oil

Directions to Follow
Cut cabbage head in half and save half for another salad. Remove core from the half you're using, then cut cabbage into very thin slices (less than 1/4 inch) and turn cutting board the other direction and cut again to chop into very small pieces. Thinly slice green onions, chop cilantro, and chop peanuts.

In a bowl or glass measuring cup, mix together rice vinegar, sweetener of your choice, sesame oil, soy sauce, and Sriracha sauce if using. Use a whisk to mix in oil until dressing is well-combined.

In large plastic or glass bowl, gently combine chopped cabbage, sliced green onions, and chopped cilantro. Add dressing a little at a time, until salad seems as wet as you'd like it. (You may not need all the dressing.) Add chopped peanuts, and stir a few times until peanuts are mixed in. Taste salad for seasoning, and add salt and freshly ground black pepper as desired. Serve immediately.
Have you ever had this spicy cilantro peanut slaw? What did you think of it? Share your thoughts in the comment section below!
Article Source: Kalyn's Kitchen