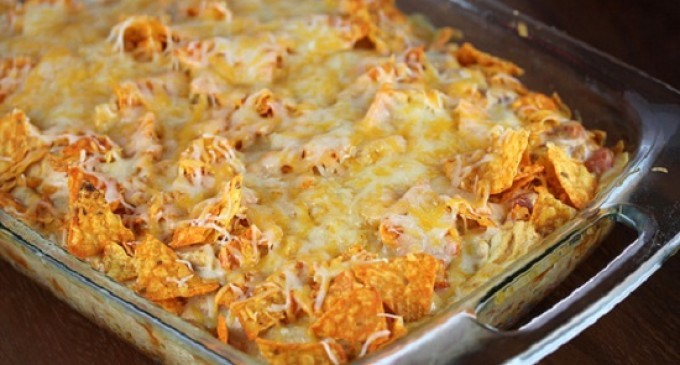 As you hang in your kitchen having an after work snack, wondering what to make for dinner, go ahead and put those Doritos down, because they just made the meal plan.
Let's Get Started… 
Things You Will Need:
3 cups of cooked chicken cut up into 1 inch bits

1 can cream of mushroom soup

1 can cream of chicken soup

1 can Rotel

1 can of corn

1 small can of green chile

8 oz sour cream

2 cups shredded Mexican Blend cheese

3/4 bag Doritos
How To Prepare:
Preheat oven 350 degrees. Spray casserole pan with cooking spray.

Crush your bag of Doritos, it's easiest to do it in the bag and then dump it in the bottom of your casserole dish as the base.

Mix together ALL of your ingredients in a separate bowl.

Set aside one cup of your cheese for the topping.

Once mixed, pour this over the Doritos.

Cook for 20 minutes, uncovered.

Pour the remaining cup of cheese over the top and cook for another 5-8 minutes until melted.
Finished!
Note: If you're feeling creative and happen to have burrito sized flour tortillas on hand, you might want consider putting your casserole inside a burrito. If not for dinner, then at least for lunch the following day if you have leftovers.
Happy Baking & Enjoy!
Article Source: Wheel In Deal Mama
Photo Source: Blog Chef