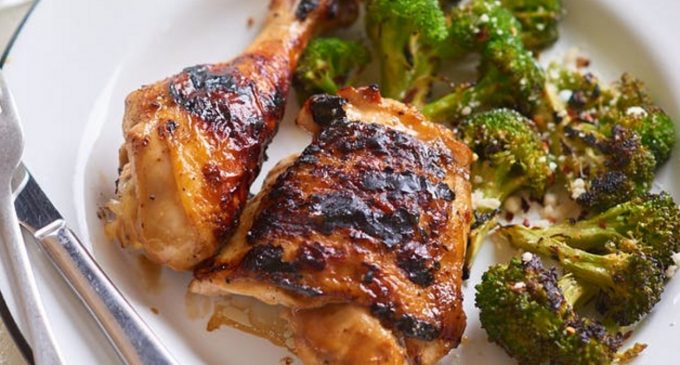 Here's everything you need for this savory buttermilk brined grilled chicken. This recipe makes four to six servings.
Ingredients to Gather
2 cups well-shaken buttermilk
1/4 cup packed dark brown sugar
6 cloves garlic, minced
2 tablespoons freshly squeezed lemon juice
1 tablespoon smoked paprika
1 teaspoon kosher salt
1 teaspoon coarsely ground black pepper
1/2 teaspoon red pepper flakes
8 pieces bone-in chicken (preferably 4 thighs and 4 drumsticks, about 2 pounds total)
Directions to Follow
Whisk the buttermilk, sugar, garlic, lemon juice, paprika, salt, pepper, and red pepper flakes together in a large bowl or resealable plastic container.

Add the chicken, making sure each piece is submerged. Cover and refrigerate for at least 8 hours or up to overnight.

Light one half of a gas grill to medium-high heat (about 375°F). Alternatively, prepare a chimney's worth of charcoal and fill one half of a charcoal grill with lit charcoal. Cover the grill and heat for 20 minutes while you prepare the chicken.

Remove the chicken from the marinade and pat dry with paper towels. When the grills is ready, place the chicken on the unlit side of the grill. Cover and cook for 20 minutes. Flip the chicken, cover, and cook for 20 minutes more.
After this, check to make sure the chicken is done. The temperature inside should register at least 165 degrees Fahrenheit in the thickest part of the meat. If it's not quite done, grill for an additional 10 minutes. Once the chicken is fully cooked, place it on the lit part of the grill, and grill for another 4 to 5 minutes, or until the skin is charred and crispy. After that, place it on a serving platter and let it cool for 5 minutes before serving.
Have you ever marinated your chicken in buttermilk before grilling it? What do you think of this recipe? Share your thoughts in the comment section below!
Article & Photo Source: The Kitchn