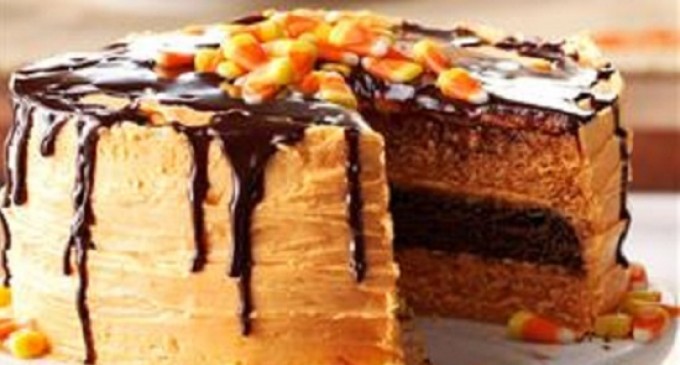 Creating three things will take some time, so be organized and make sure to keep track of all your materials and procedure.
Ingredients To Gather Up: 
Cake:

1 cup butter, softened
2 cups sugar
4 eggs
3 cups all-purpose flour
1 tablespoon baking powder
1/2 teaspoon salt
1 cup milk
1/4 cup baking cocoa
1/4 cup water
1/2 teaspoon vanilla extract
1/2 teaspoon orange extract
1 tablespoon grated orange peel
10 drops yellow food coloring
6 drops red food coloring

Frosting:

3 oz. cream cheese, softened
5-3/4 cups confectioners' sugar
2 tablespoons milk
8 drops yellow food coloring
6 drops red food coloring

Glaze:

3 ounces semisweet chocolate
1/3 cup heavy whipping cream
Candy corn for garnish
Directions To Follow: 
Cake:
Mix butter, sugar, eggs. After well blended, add flour, baking powder, salt, and milk. After the mixture is well combined, add water, vanilla extract, and cocoa. Finally add the cake batter and stir well.
Put the combined mixture into a 9 inch round baking pan that you have greased with oil.
Take the remainder of the batter and add the orange peel, orange extract, and food coloring. Mix well and pour rest of them into TWO greased pans.
Bake the cake batters for 30 minutes at temperature of 350 degrees.
Take out of the oven and let it rest for 10 minutes.
Frosting:
Combine all the ingredients listed for the frosting. Mix until well-blended.
Assemble:
Spread half cup of frosting on top of the first orange cake layer.
Put the chocolate cake layer and spread half cup of frosting on top.
Finish it off with the final orange cake layer and use the remaining frosting to cover the entire cake.
Glaze:
Combine the chocolate and cream together.
Put them in the microwave and heat it up for a minute and a half.
Take it out and let it rest for 2 minutes.
Pour gently over the cake.
Decorate the cake with candy corn.
Once you have finished baking the batter and assembling the cake together, you can have fun making this cake really yours by decorating it! You don't have to garnish the top of the cake with candy corn. You can choose snacks or chocolates of your own, such as mini pretzels or M&Ms or etc.
Article Source: Taste of Home