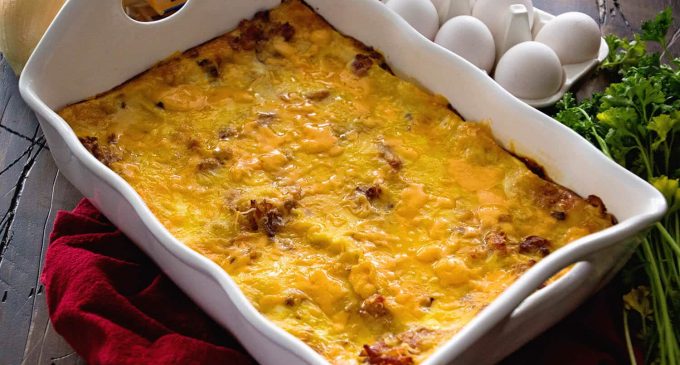 Do you ever struggle to find great recipes to feed a crowd…for breakfast? Lunch and dinners can are simple, but breakfast seems to be a difficult process to nail down. If you are cooking for a crowd it can be tiresome to make individualized plates of breakfast food. 
Thankfully

, we have found a solution! 
When it comes to making breakfast for a crowd, we get swamped standing over a hot stove. Making pancakes or french toast takes time when you have a lot of people to feed. And listening to them complain about having to wait for seconds can get annoying.
While you'll always love these classic breakfast foods, you need something that can make a big batch of. You also need it to be easy and serve a big group. Plus, you get to play around with interesting flavor combinations.
What we came up with was a savory breakfast pasta. Lasagna isn't
just
for dinner anymore! It makes a delicious breakfast as well, with yummy layers of bacon, ham, onions, cheese and, of course, lots of eggs. The result was a hearty dish that was perfect for our family and friends at Sunday morning brunch. It might sound weird at first, but we promise, this stuff is so good!
For The Full List Of Ingredients & The Step By Step Directions To Follow Please Head On Over To The Next Page For The Entire Recipe…