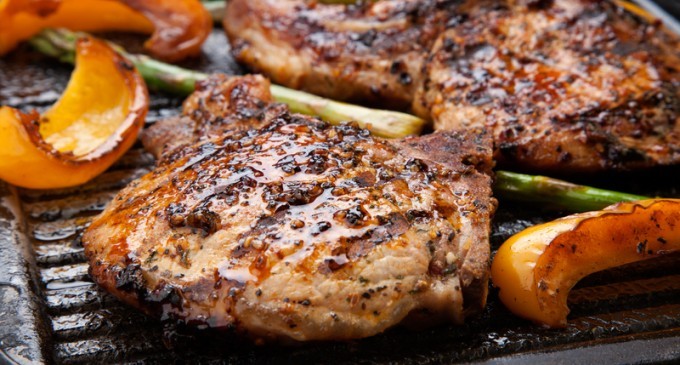 This recipe requires just basic ingredients that you probably already have in your pantry. That makes it the perfect option for when you're short on time or don't want to trek to the grocery store.
Let's Get Started… 
Ingredients To Gather:
1 c all purpose flour
4 tsp paprika
3 tsp salt
1/2 tsp black pepper
2 c milk
4-6 boneless pork chops
1/2 c butter
1 small onion-finely chopped
1 lemon-juiced
1/2 c all purpose flour
Directions To Follow:
Start by preheating your oven to 350 degrees Fahrenheit. Next, mix 1 cup of flour, and the paprika, salt and pepper and then dredging the pork chops in the mixture. Next, melt butter in a large skillet and add the pork chops, cooking until they're browned on both sides. Next, put them in a shallow baking dish and add the onion, and then saute everything until it's tender. Then, add 1/2 cup of flour and add milk using a whisk. Whisk the entire mixture until the sauce begins to thicken. This usually takes 2 or 3 minutes. Once this is done, remove from the heat and add the lemon juice. Finally, pour the sauce over the pork chops and bake everything uncovered for 1 hour.
Finished!
This is a hearty, classic dish that goes well with everything from creamy mashed potatoes to succulent sides of vegetables like green beans, carrots, and other favorites. Or, add a serving of french fries or fried potatoes for a stick-to-your ribs meal.
Enjoy!
Article Source: Just A Pinch