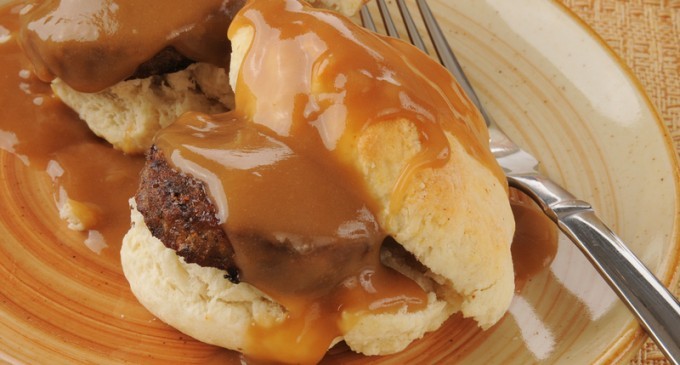 Biscuits, Gravy, Sausage, Eggs & Cheese. In A Casserole. For Breakfast. Your Kids Will Clean Their Plates In The Blink Of An Eye.
If You Like Comfort Food Then This It Something You'll Enjoy! Who Cares If It's For Breakfast –
Let's Get Started…
Ingredients To Gather:
12 ounces of buttermilk biscuit dough (we used Grands, which are slightly bigger)

6 eggs

1 (2 3/4 ounce) package peppered gravy mix (makes 2 cups)

1 lb sausage, any flavor

1 cup cheese, shredded

1/2 cup milk

salt and pepper to taste
Directions To Follow:
Preheat oven to 350 degrees. Grease a 13×9 baking pan.

Cook sausage in skillet until brown.

Cut biscuit dough into 1″ pieces. Line bottom of baking pan with them.

Put sausage over the biscuits.

Add shredded cheese on top.

Whisk eggs and milk. Add salt and pepper. Pour milk/egg sauce over.

Make gravy according to package instructions.

Bake for 30-45 minutes.
Finished!
Leftovers makes for a light lunch or dinner. All you need is to add a green salad, crusty bread, and you're set. Warm them up in your microwave.
Enjoy!
Article Source: Scattered Thoughts Of A Crafty Mom