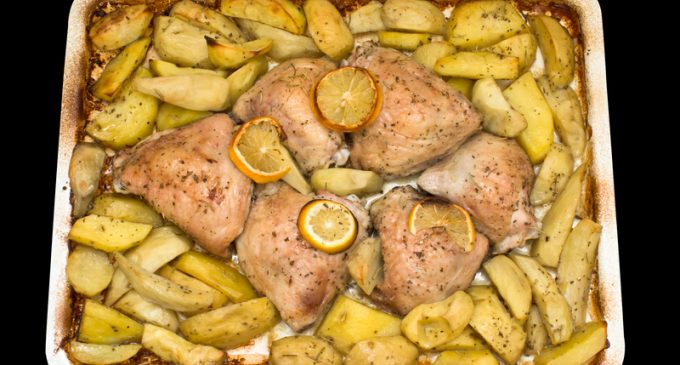 You Can Practically Taste the Mediterranean When You Take a Bite of This Succulent Chicken!
Chicken and potatoes are always a big hit together, and they certainly make a stick-to-your-ribs main course. We've tried several versions of this classic dish over the years, but one of our absolute favorites has to be Kotopoulo Psito Lemonata, a Greek version which is also a traditional favorite in the Mediterranean. The chicken is both tender and flavorful, thanks to the herbs, olive oil and lemon juice rubbed on the skin. The meat is then placed on a bed of potatoes and cooked until it's not only tender, but also amazingly juicy and crispy. Yum!
This recipe is easy to make and doesn't require a lot of time, but it looks and tastes like something straight out of a gourmet restaurant or authentic Greek kitchen. That makes it one of our go-to dishes for both ordinary weeknight dinners and for special occasions such as elegant dinner parties and festive family holiday gatherings. Your guests will adore this dish, and you may want to make extra so everyone can have a second helping.
To learn how to make these mouthwatering chicken and potatoes at home, please continue to Page (2) for the full list of ingredients and complete cooking instructions.