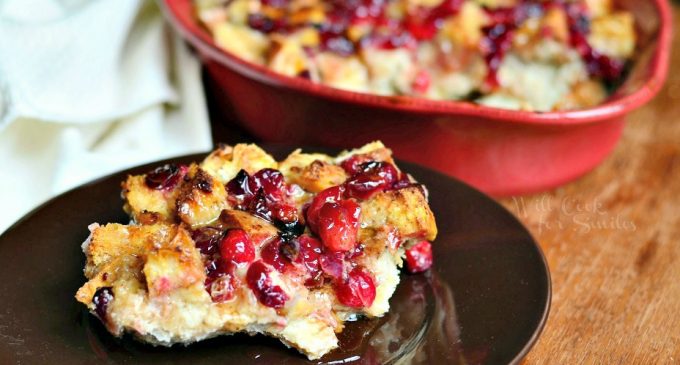 This recipe can be made with either fresh or frozen berries and any berries that you enjoy. It takes a few minutes to prepare and about an hour to bake. It will look so incredible, you will want to try some right away!
Let's Get Started!
The Ingredients To Gather:
1 tablespoon cornstarch
2 tablespoon water
1 cup orange juice
3 tablespoons honey
2 tablespoons balsamic vinegar
1 tablespoon vanilla bean paste
3 cups of mixed berries
1 cups milk
1 cup heavy cream
¼ cup marsala
1 cup + 2 tablespoons sugar
1/2 teaspoon kosher salt
1 lb croissant, split horizontally
2  eggs + 2 egg yolks
The Step By Step Directions To Follow:
Stir together cornstarch, water; set aside. In saucepan, over medium high heat, combine orange juice, honey, balsamic vinegar. Stir, bring to  boil. Add fruit, cook until softened. Stir in vanilla paste. Stir in cornstarch slurry, continue to cook, stir over medium heat until mixture thickens, about 2 minutes. Set aside.

In skillet, over medium heat, bring  cream, milk, marsala, sugar, salt to simmer. Remove from heat. Fold in 1/3 cup of berry mixture; set aside.  Whisk together  eggs, egg yolks, vanilla. Slowly whisk egg mixture into  hot cream until blended. Strain e custard through a fine strainer into bowl.

Dip in croissant pieces into custard, line pan with dipped pieces. Cover with foil, bake 35-40 minutes until center is just set. Remove pan from oven, sprinkle with remaining 2 tablespoon of sugar, return bread pudding to oven uncovered to bake  20 minutes longer or until top is golden brown. Serve with remaining berry mixture.
Happy Baking!
This mixed berry croissant bread pudding is so good, you may not want to share it with anyone else! Have you made this bread pudding yet?
Let Us Know What You Thought!
Article Source: Bakers Royale