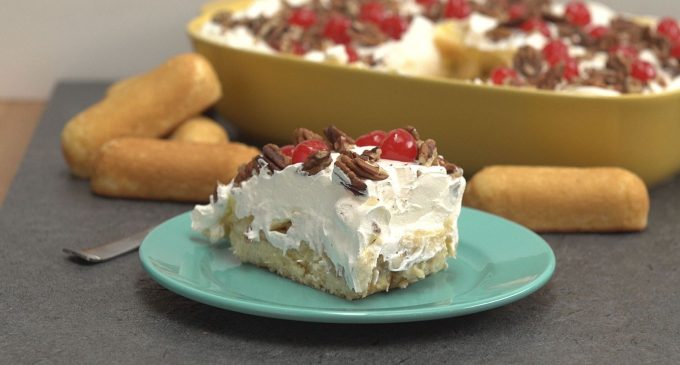 Directions:
Slice Twinkies in half lengthwise, so there is cream on the top and bottom of each half. Place sliced Twinkies in a 9×13-inch pan, cream side-up.
Arrange sliced bananas on top of the Twinkie layer in one even layer.
Spread the crushed pineapple in an even layer on top of the bananas.
In a medium bowl, mix together the instant pudding mix with the milk. Whisk it together until well-combined, then allow to thicken slightly, about 5 minutes.
Spread the pudding on top of the crushed pineapple until evenly-coated. Top with Cool Whip in an even layer.
Sprinkle dried maraschino cherries and chopped pecans on top. Cover and chill cake in the refrigerator for about an hour before serving. Enjoy!
As you can see this recipe is quite simply the easiest thing that you will ever make. It's also one of the most delicious. So tell us, did you bake up a batch? If so, what did you think and what sort of tweaks have you made to your recipe? Let us know in the comments below.