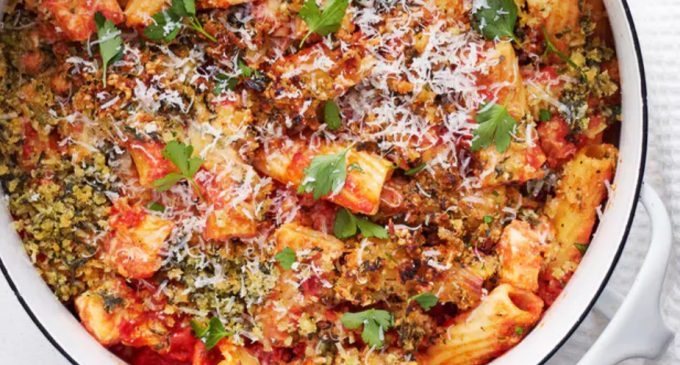 You will be so glad you tried this dish! Seriously it is amazing and has become my go-to for those days when I am slammed with work.
Directions:
Arrange a rack in the middle of the oven and heat to 400°F. Lightly coat a 3-quart casserole dish, Dutch oven, or 9×13-inch baking dish with olive oil; set aside.
Place the pasta, chicken, garlic, tomatoes and their juices, salt, and a healthy quantity of black pepper in a large bowl and stir to combine. (If the tomatoes you are using have no salt in them, add an additional 1/2 teaspoon salt.) Stir in the shredded cheese and the Parmesan. Spread this mixture in the prepared baking dish or pot and pour the milk over top.
Cover the dish or pot tightly with a lid or a double layer of aluminum foil. Bake until the pasta is tender, about 50 minutes. Meanwhile, prepare the herb topping. In a small food processor or chopper, whiz the breadcrumbs, cheese, herbs, salt, and a few grinds of black pepper. Slowly drizzle in the olive oil, blending until the texture resembles wet sand.
Remove the dish from the oven and turn the oven up to broil. Slowly remove the lid (or foil) from the casserole dish. Be careful, as steam will billow out. Spread the herbed breadcrumbs over the bubbling pasta and return the uncovered dish to the oven. Broil until the topping is toasted and crispy on top, about 5 minutes.
Take the casserole out of the oven and let it cool for about 10 minutes before serving. Eat with a green salad and a glass of red wine.
If you really want this dish to pop check out this tip!
Recipe Notes
Milk: The more fat in your milk, the thicker and more luxurious this dish will be. I have only made this with whole milk, which worked very well. I see no reason why lower-fat milks would not work as well, but they may be soupier, with a thinner sauce, when you first remove them from the oven.
Try this dish out and let's see what you've got cooking. Post your thoughts and pictures in the comment boxes below!
Source: Kitchn.