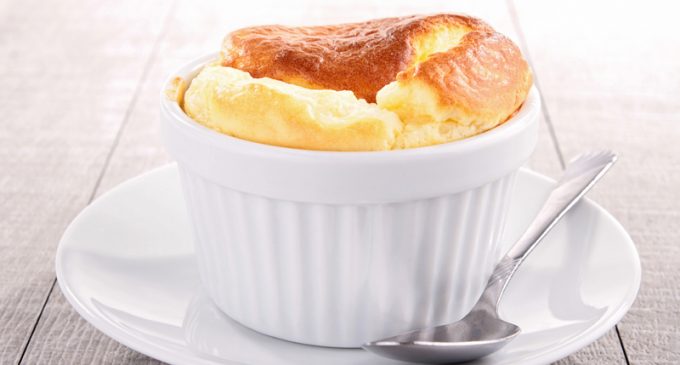 We couldn't wait to learn what the secret to the perfect souffle was. It turns out it's a lot simpler than we ever could have imagined!
There's only one serious secret to the perfect soufflé and that is careful whisking of the egg whites so they keep their volume and puff to a maximum in the oven. The whites should be at room temperature and you can reckon at least one and a half per person. When whisked and folded into the flavoring mixture, this will fill a one-cup ramekin. For a one-quart soufflé dish you will need six egg whites.

Whether you are whisking by hand or with the whisk attachment on the electric mixer, start whisking slowly to a generous froth, adding a small pinch of salt to the whites to break them up. Gradually increase speed as the volume of whites grows, until at full speed they tighten to a dense foam that forms a short peak when the whisk is lifted. (Do not over-whisk as the foam will separate and curdle.)

When folding the whisked egg whites into the basic mixture, first stir a generous spoonful of whites into the mixture.
Now, take this and return it into the rest of the egg whites before using a rubber spatula to cut across the center and on the bottom of the mixture.
What do you think of this technique for making perfect souffles? What are your favorite tips for making souffles? Share your thoughts in the comment section below!
Article Source: Food52