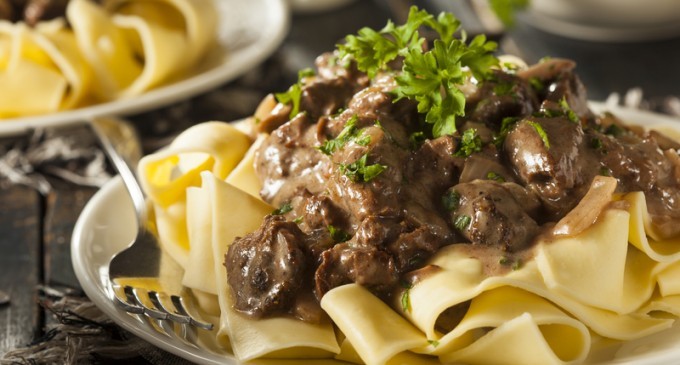 This super easy and incredible beef stroganoff makes ten servings but you can always cut the recipe in half if you don't need quite so much. For this recipe, you do not even have to drain the beef, the juices just make it that much better. It only takes twenty-five minutes to cook making it perfect for a truly satisfying and delicious weeknight meal!
Let's Get Started…
The Ingredients To Gather:
1 lb lean ground beef
2 packages button mushrooms
1 can evaporated milk
1 lb egg noodles
1 container chive and onion sour cream
The Step By Step Directions To Follow:
Cook beef over high heat, stirring frequently, until brown. Do not drain.
Add mushrooms, salt to taste. Cook 5 minutes.
Add evaporated milk, 4 1/2 cups hot water, noodles.
Heat to boiling over high heat.
Reduce heat; simmer uncovered 7 – 8 minutes.
Remove from heat; do not drain; stir in sour cream.
Serve & Enjoy!
This one pot beef stroganoff is so easy and delicious you may want to make it all the time. Have you tried this beef stroganoff yet?
Let Us Know What You Thought!
Article Source: Pillsbury