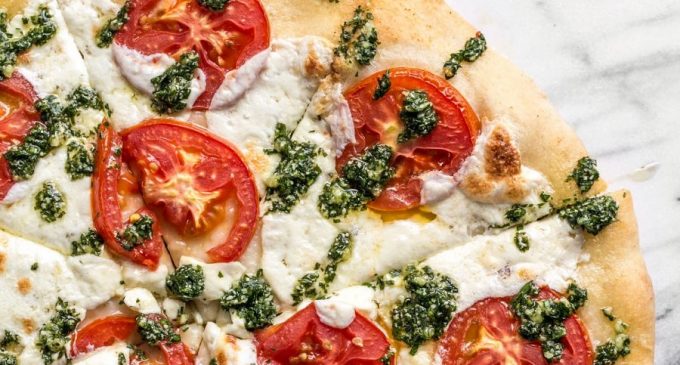 This Pizza Is Our Favorite Summertime Treat
When you think of pizza, you probably think of the classic version we all grew up eating: plenty of tangy tomato sauce, and then topped with gooey mozzarella cheese and plenty of hearty, savory toppings. While that may be the traditional version, and the one many of us crave when we're in the mood for pizza, there are tons of ways to make this beloved dish. Many of them are pretty creative!
That's certainly the case with this white pizza, which uses a parsley pesto sauce made from parsley, garlic, Parmesan cheese, cracked pepper, red pepper flakes, lemon juice, olive oil and salt. Wow! It's certainly unexpected, but it really adds a new and delicious flavor to the pizza. This mouthwatering pizza is also topped with Roma tomatoes and plenty of rich mozzarella cheese, and is a little lighter than the traditional style, which is one reason we really like it for warm weather.
To learn how to make this mouthwatering white pizza with parsley pesto drizzle, please continue to Page (2) for the full list of ingredients and complete cooking instructions.