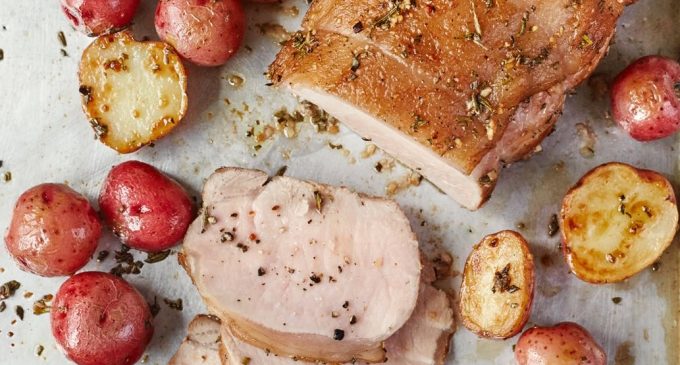 Every Cook Needs a Go-To Dinner Recipe Like This!
Pork loin is one of our go-to main courses because it's tender and succulent and incredibly easy to make. You don't need to do anything particularly special or complicated, and in fact, we think pork loin tastes best when you keep things simple. For example, we usually just use a basic rub, in this case one that uses garlic, rosemary, salt, and pepper. Yum!
It really adds a lot of flavor to the already delicious pork loin, which is made even better by the slow cooking. Slow cooking the pork loin renders the fat to add an incredibly amount of flavor. Plus, the meat is roasted alongside some nice sliced potatoes, which cook in the pork's fat and add flavor. Even better, because the meat and the potatoes cook together, you only need one pan. This makes things simple and also cuts down on the amount of cleanup required. This is the dish we make when we have guests coming over and don't have a lot of time to cook but still want to impress!
To learn how to make these savory roasted rosemary and garlic pork loin and potatoes at home, please continue to Page (2) for the full list of ingredients and complete cooking instructions.