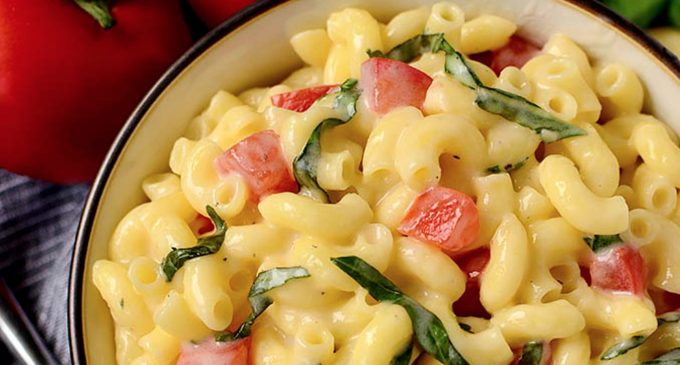 A Little Tomato and Basil Makes a Big Difference…
Mac and cheese may just be the ultimate comfort food. It's certainly one of the first dishes we think of when we're craving something soothing and cozy. It also seems a little bit indulgent, which makes it the perfect recipe to reward yourself with after a long, hard day. We've long considered ourselves mac and cheese connoisseurs, but we recently came across a mac and cheese recipe that surprised even us!
This stovetop mac and cheese uses tomato and basil to add extra flavor and transform ordinary mac and cheese into an elegant, even gourmet treat! Even better, this is completely made from scratch mac and cheese, but it takes less than 20 minutes to make. So, even if you're not a gourmet chef or you don't have a lot of time, you can still make an impressive meal.
It's also gluten-free, a big plus for people who thought they couldn't indulge in their favorite comfort foods because of a gluten sensitivity. This amazing mac and cheese is absolutely loaded with flavor, thanks to the garlic, butter, milk and that luscious fontina cheese. You'll never go back to packaged mac and cheese after tasting this!
To learn how to make this rich and creamy tomato and basil stovetop mac and cheese, please continue to Page (2) for the full list of ingredients and complete cooking instructions.