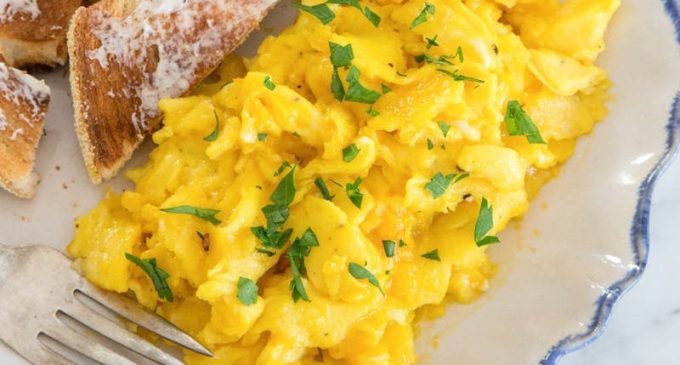 We'll Never Eat Plain Old Scrambled Eggs Again!
Scrambled eggs is one of those tried-and-true dishes that you can always depend on to give you plenty of protein and nourishment, and satisfy even the most intense hunger. While it's a breakfast staple, it's also great for brunch or lunch, and when we don't have time for a sit-down lunch, we often make a quick and easy scrambled egg sandwich to help us power through the rest of the day. There are lots of ways to dress up scrambled eggs a bit, including adding various seasonings and spices. But we recently discovered something that outdoes all of those, and transforms ordinary scrambled eggs into an elegant dish.
What's our secret? Sour cream! That's right; it's definitely not something we would have thought of including in our scrambled eggs, but it really does make an incredibly big difference! It adds a subtle but still rich flavor and smooth and creamy texture that enhances the overall quality of the eggs and makes them even more satisfying (which we didn't even know was possible). Plus, you don't need much. Just a little goes a long way, and we recommend adding just a bit.
To learn why sour cream makes scrambled eggs taste so much better, please continue to Page (2) for the surprising reasons.